Dear Community,
We know many people in our community are hurting. We know for many the recent events are not shocking news but exemplify decades of lived experience. We are appalled by the racism suffered by African Americans in our nation, by the lack of conviction and accountability of law enforcement, and by the systemic racism which excludes People of Color from the same opportunities many of us take for granted. Enough is enough.
We believe Black Lives Matter and the tragic murders of George Floyd, Breonna Taylor, Ahmaud Arbery, and many others remind us that we have a long way to go. If we are going to implement change, we each have a role to play in pushing this forward.
Our financial system was designed to exclude and prey upon People of Color through redlining and other insidious practices ingrained in the system over time. Sadly, these practices seem to be getting worse, not better.  Predatory lenders continue to thrive in Communities of Color in New York City and around the country. The presence of healthy financial alternatives remains limited.  Regulations put in place to ensure equal access like the Community Reinvestment Act are under threat, and agencies like the Consumer Financial Protection Bureau, created to protect vulnerable consumers, have had their effectiveness deliberately undermined.
That's where we hope to play a role and why we exist: to create financial inclusion and access to wealth-building opportunities for underserved financial consumers who are disproportionately People of Color in New York City. Now more than ever, we remain dedicated and focused on creating an inclusive and just economic system that works for and serves us all.
May this moment mark the beginning of the end of systemic racism for our city and our nation.
The Spring Bank Team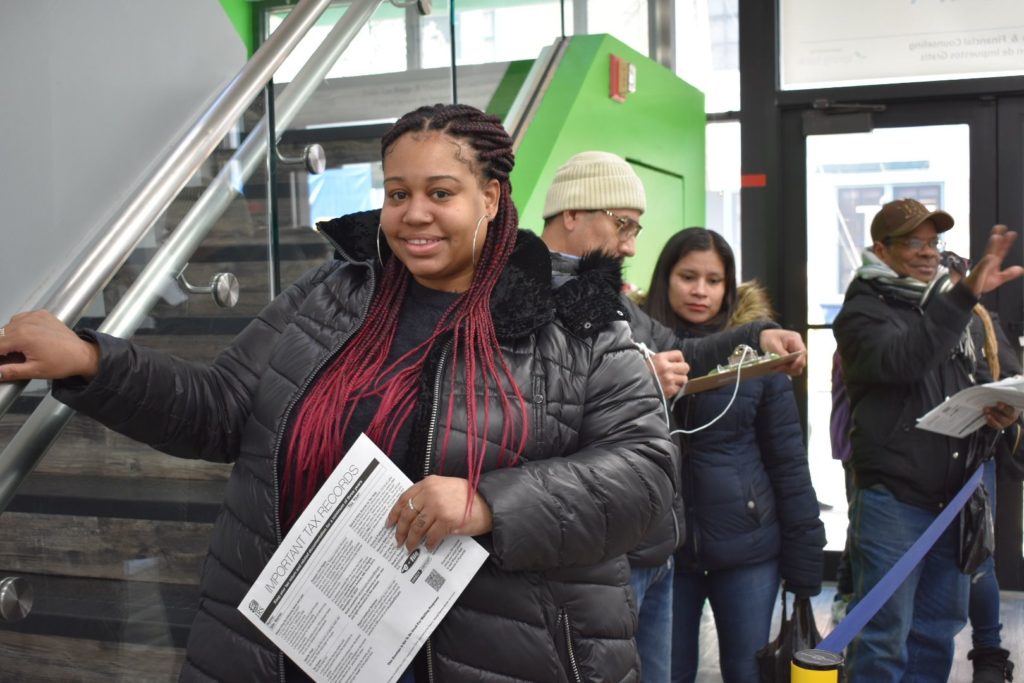 When we opened our doors in the Bronx over twelve years ago, we did it with Ariva, a community-based, nonprofit organization. We have been on this journey together. Not only do we share headquarters at our Bronx offices on 167th street, but we also share a mission to strengthen financial stability and expand the financial inclusion of  New Yorkers.
Ariva provides free tax preparation and free financial counseling to low-income residents of New York City. In December, Ariva received one of eight designations from the Department of Consumer Affair's Office of Financial Empowerment as a New York City Financial Empowerment Center—one of two in the Bronx—and we are, of course, excited to share this news.
"As a New York City Financial Empowerment Center, we can extend our reach and better serve our clients. It also adds a new dimension to our work and the impact we make," says Irene Baldwin, Executive Director of Ariva.
Since 2003, Ariva has prepared free tax returns for over 100,000 clients, returning more than $150 million in total refunds. Returns vary in dollar amount, and many of Ariva's clients return year after year. They often count on their tax return to support their annual household income. Eighty-eight percent of Ariva's clients earn less than $30,000 annually; Ariva knows that even a small refund can prevent one of their clients from using predatory financial services and can help a family start saving.
\Witnessing families gain confidence in their financial knowledge, make more informed financial decisions, and increase their financial security are a few of the reasons Ariva's hardworking staff and committed volunteers know their work matters. We are proud to host one of their year-round tax preparation sites and one of their financial counselors in our branch. For Irene, the host matters:
"Spring Bank is the perfect host. We share values and mission. As one of the only banks in the neighborhood, people come to the Bronx branch for their financial needs. We provide complimentary services and offerings and refer clients to each other".
Ariva's services are available to all. Their winter hours for their free tax preparation program are (69 E. 167th Street)
Mondays, Tuesdays, and Thursdays: 4 to 7:30 pm
Wednesdays: 12 to 7 pm
Saturdays: 10 am to 4 pm
The hours for free one-on-one counseling are: (until April 30th)
Mondays, Tuesdays, Wednesdays & Thursdays: 11 am to 7:00 pm
Fridays: 2 to 5 pm
Saturdays: 9 am to 5 pm
Clients are invited to walk-in, and no appointments are needed. Read this checklist to make sure you bring the proper paperwork before arriving.  For more information about Ariva's mission, services and locations across New York City, visit www.ariva.org