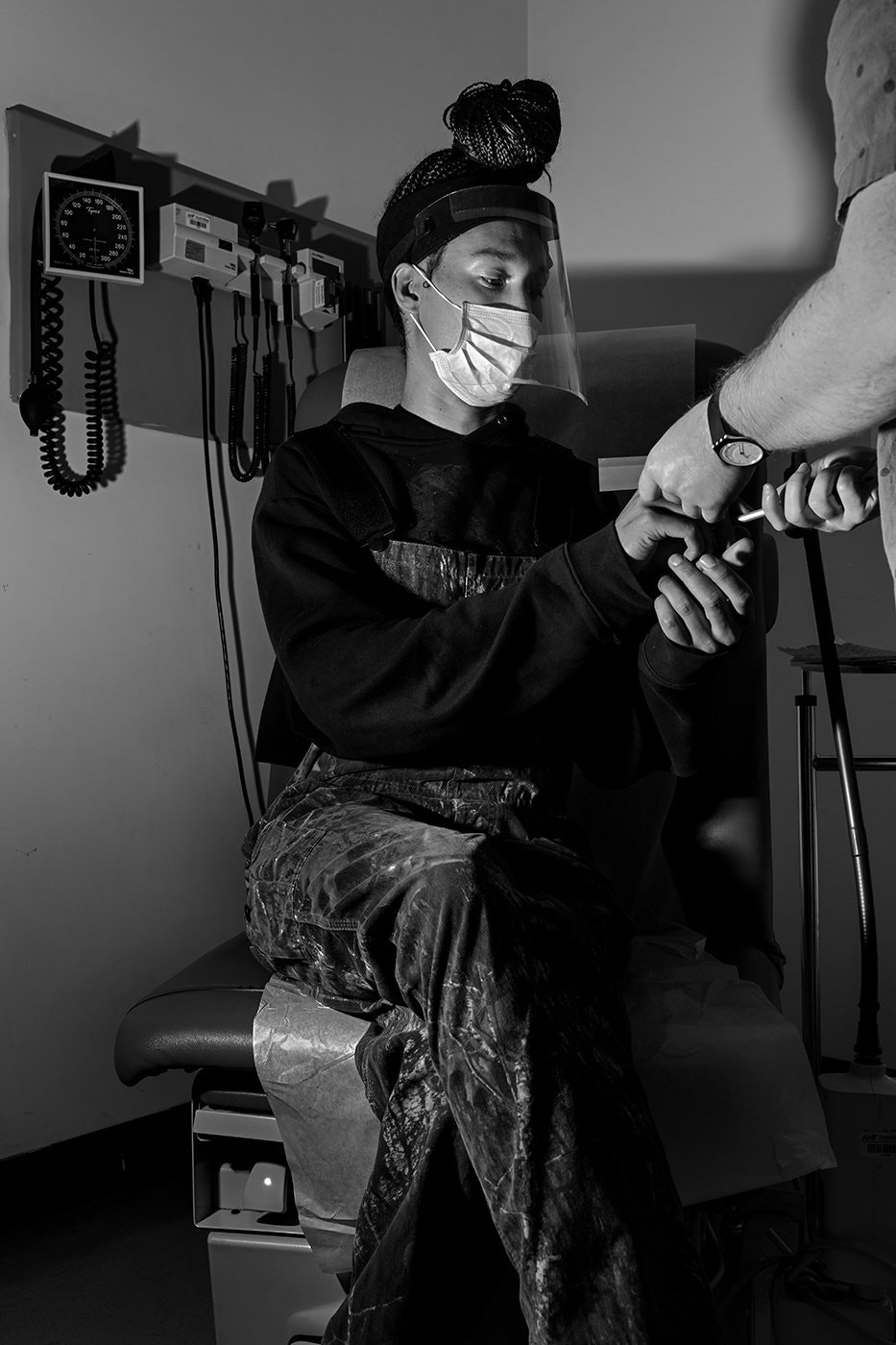 With over 20,000 patients across the city, Callen-Lorde Community Health Center has provided outpatient health care to New York City's LGBTQ and homeless community for over 50 years. So, when COVID-19 infections in New York City spiked in early March and the emergency rooms and hospital beds were overflowing, Charles King, the CEO of Housing Works, knew who to call. Wendy Stark, the Executive Director of Callen-Lorde, quickly took him up on his proposition to work together.
"We quickly pivoted to be part of the city's front-line health care response. And under very dire circumstances, our staff turned a hotel into a field hospital to serve COVID patients. We've needed more staff than we thought because people were sicker than we expected," says Wendy.
In a matter of hours, Housing Works and Callen-Lorde converted a 133-room hotel in Queens into a hospital, pharmacy, and testing center. In addition to managing their telemedicine program for current patients, the Callen-Lorde team worked day and night to support the influx. And they were running out of money. The volume of their services increased, but payment and government support did not.
When the SBA CARES Act funding became available, Wendy immediately applied for the Paycheck Protection Program (PPP) with a large financial institution; they were not successful. Three days before the SBA portal opened for the second round Wendy held an all-team meeting to announce that Callen-Lorde had no choice but to furlough 80 employees— that's when one of their employees referred them to us.
"It's been incredibly emotional. The Spring Bank team worked over the weekend to help us secure the PPP loan, and by Monday morning, I delivered happy news to the team that we did not have to furlough anyone right now," says Wendy. "We had a staff call with the Spring Bank team to celebrate."
The PPP loan provides Callen-Lorde with two months of funding and time to secure longer-term fiscal support as their team continues to work, day and night. The transformation of the health care system, one that is accessible for all New Yorkers, is also of the highest priority for Wendy.
"People have talked about this moment as an equalizer. It's not. COVID-19 has impacted people of color, and people with less access to ongoing services most acutely," says Wendy. "We need a centralized, single-payer, unified system that works to the benefit of our entire society. We need a total transformation."
Callen-Lorde and Housing Works continue to operate the working hospital at the hotel in Queens. They plan to serve as many people as they can for as long as they can. Partnerships with other health centers, affordable housing providers, and community-based organizations have been crucial to their journey. We are humbled and grateful to be one of those partners.
"As a result of COVID-19, we are now connected with a financial institution oriented to serve people who are underbanked. Our overnight partnership with Spring Bank shows the beautiful way a community can organize during a crisis. It's important that we raise our voices together," says Wendy.
Raise your voice on behalf of Callen-Lorde by donating to their emergency fund. Read a feature piece about Callen-Lorde in the New York Times. Learn more about their COVID-19 services. Read about PPP Loan forgiveness on our website.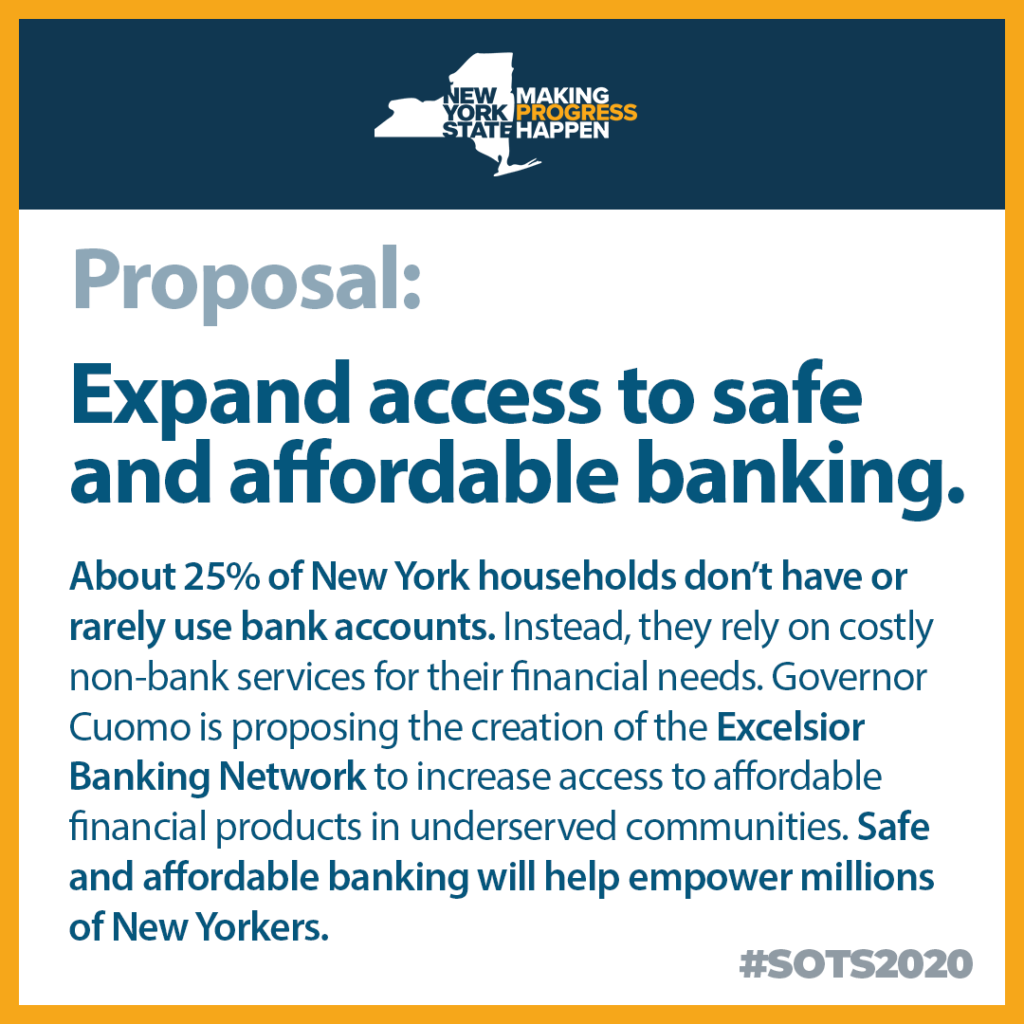 Governor Cuomo Announces a 2020 Statewide Proposal for CDFIs
At the beginning of this new decade, we shared our 2020 vision: To continue to explore ways we can invest our dollars responsibly, so more people have access to the financial tools they need to build wealth. Thankfully, we aren't standing alone in this work. We proudly share our mission of financial inclusion with the 83 other US Treasury Certified Community Development Financial Institution Funds (CDFl's)– mission-driven financial institutions, banks, credit unions, and nonprofits–in New York State. And, Governor Cuomo does too.
Governor Cuomo recently announced the "21st Proposal of his 2020 State of the State: Expanding Access to Safe and A/fordable Financial Services." In partnership with CDFls, his proposal includes the following strategies:
$25 million in new funding over five years to increase access to affordable financial products in underserved communities across New YorkState through, New York's Community Development Financial Institutions Fund (CDFI)
The launch of a statewide "Office of Financial Inclusion and Empowerment" as a single-stop provider of financial services and providers across housing, student loan, debt, and general financial literacy
The expansion of access to safe and affordable banking services, credit and financial education, particularly for women and communities of color, typically excluded from the current financial systems.
To execute these strategies, Governor Cuomo proposes to work with CDFls, who, like us, are often the sole providers of banking and other financial products and services in low-income communities. Under the Governor's proposal, participating CDFls will leverage this funding, providing upwards of $300 million in targeted investment in underserved communities in New York for consumers, affordable housing, and small businesses.
Governor Cuomo's vision includes expanding access to low-cost bank accounts to low-income New Yorkers who often find that the only accessible banking service in their communities are high-cost check cashers who take huge finance fees out of people's paychecks. According to the FDIC, approximately 25 percent of New York households do not have bank accounts or seldom use one and rely on costly non-bank services for their financial activities. Expanding financial literacy education and access to microcredit for small businesses is also part of the proposal.
In a press release announcing his strategies, Governor Cuomo acknowledged the prevalence of exploitation by predatory lenders in low-income communities in New York:
"We've made significant strides expanding access to banking services for low income New Yorkers, but too many people still live in banking deserts," Governor Cuomo said. "As a result, these New Yorkers often turn to costly check-cashing services or take out illegal predatory payday loans because they can't access affordable small business loans at community banks. These sweeping proposals will provide New Yorkers with the services they need to build their credit, improve financial literacy, and take charge of their economic futures – helping build a fairer and stronger New York."
Linda MacFarlane, the Executive Director of CDFI, Community Loan Fund of the Capital Region and chair of the New York State CDFI Coalition of which we are a proud member, has been discussing the proposal with the Governor's office, the New York State Department of Financial Services and Empire State Development Corp. and has "high hopes" for the Governor's new proposal.
We do too. We are proud to serve New York City as one of 83 CDFIs in the state who helped shape the New York State CDFI Fund to expand access to safe and affordable products. Creating access to credit and wealth-building financial tools for communities typically excluded is why we headquartered in the Bronx—and why we continue to explore ways in which to serve New York City as a mission-driven, ethical bank.
We invite you to join us in the mission. 
Register for this year's NY State CDFI Conference in Albany, March 30-31st. You will learn more about how you can join CDFIs in making a difference every day in New York, State. Invest your dollars locally with us. Open a Green Checking account with us today. When you bank in your community, you support the credit and wealth-building of your neighbors and local businesses.
Read our 2020 Vision and follow us on LinkedIn, where we share stories about what it means to be an ethical bank, and our vision for a shared and durable prosperity for all.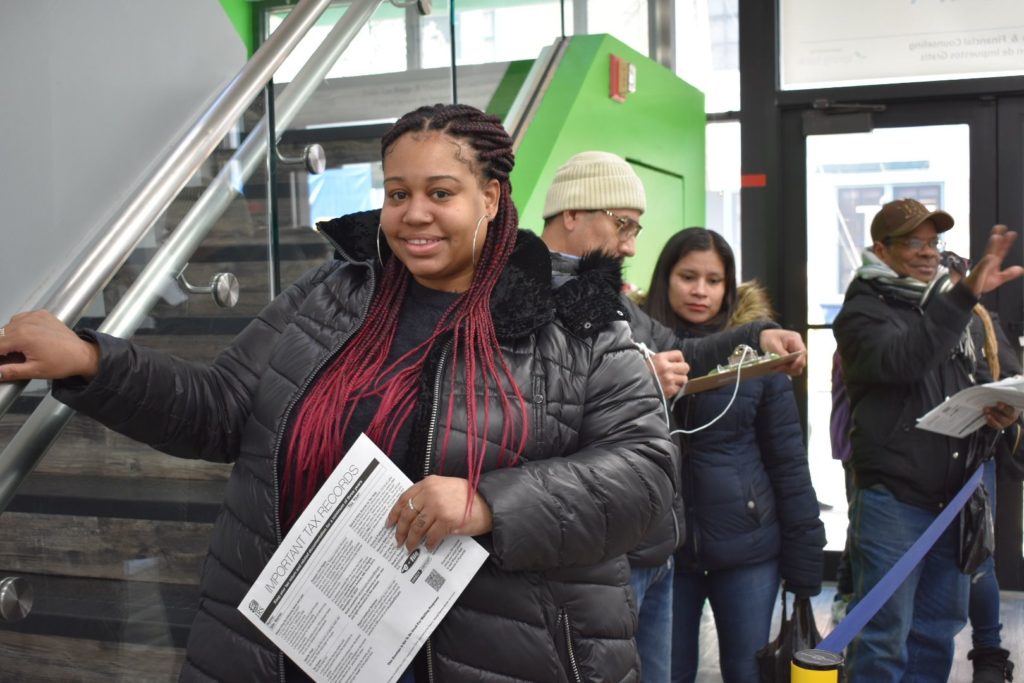 When we opened our doors in the Bronx over twelve years ago, we did it with Ariva, a community-based, nonprofit organization. We have been on this journey together. Not only do we share headquarters at our Bronx offices on 167th street, but we also share a mission to strengthen financial stability and expand the financial inclusion of  New Yorkers.
Ariva provides free tax preparation and free financial counseling to low-income residents of New York City. In December, Ariva received one of eight designations from the Department of Consumer Affair's Office of Financial Empowerment as a New York City Financial Empowerment Center—one of two in the Bronx—and we are, of course, excited to share this news.
"As a New York City Financial Empowerment Center, we can extend our reach and better serve our clients. It also adds a new dimension to our work and the impact we make," says Irene Baldwin, Executive Director of Ariva.
Since 2003, Ariva has prepared free tax returns for over 100,000 clients, returning more than $150 million in total refunds. Returns vary in dollar amount, and many of Ariva's clients return year after year. They often count on their tax return to support their annual household income. Eighty-eight percent of Ariva's clients earn less than $30,000 annually; Ariva knows that even a small refund can prevent one of their clients from using predatory financial services and can help a family start saving.
\Witnessing families gain confidence in their financial knowledge, make more informed financial decisions, and increase their financial security are a few of the reasons Ariva's hardworking staff and committed volunteers know their work matters. We are proud to host one of their year-round tax preparation sites and one of their financial counselors in our branch. For Irene, the host matters:
"Spring Bank is the perfect host. We share values and mission. As one of the only banks in the neighborhood, people come to the Bronx branch for their financial needs. We provide complimentary services and offerings and refer clients to each other".
Ariva's services are available to all. Their winter hours for their free tax preparation program are (69 E. 167th Street)
Mondays, Tuesdays, and Thursdays: 4 to 7:30 pm
Wednesdays: 12 to 7 pm
Saturdays: 10 am to 4 pm
The hours for free one-on-one counseling are: (until April 30th)
Mondays, Tuesdays, Wednesdays & Thursdays: 11 am to 7:00 pm
Fridays: 2 to 5 pm
Saturdays: 9 am to 5 pm
Clients are invited to walk-in, and no appointments are needed. Read this checklist to make sure you bring the proper paperwork before arriving.  For more information about Ariva's mission, services and locations across New York City, visit www.ariva.org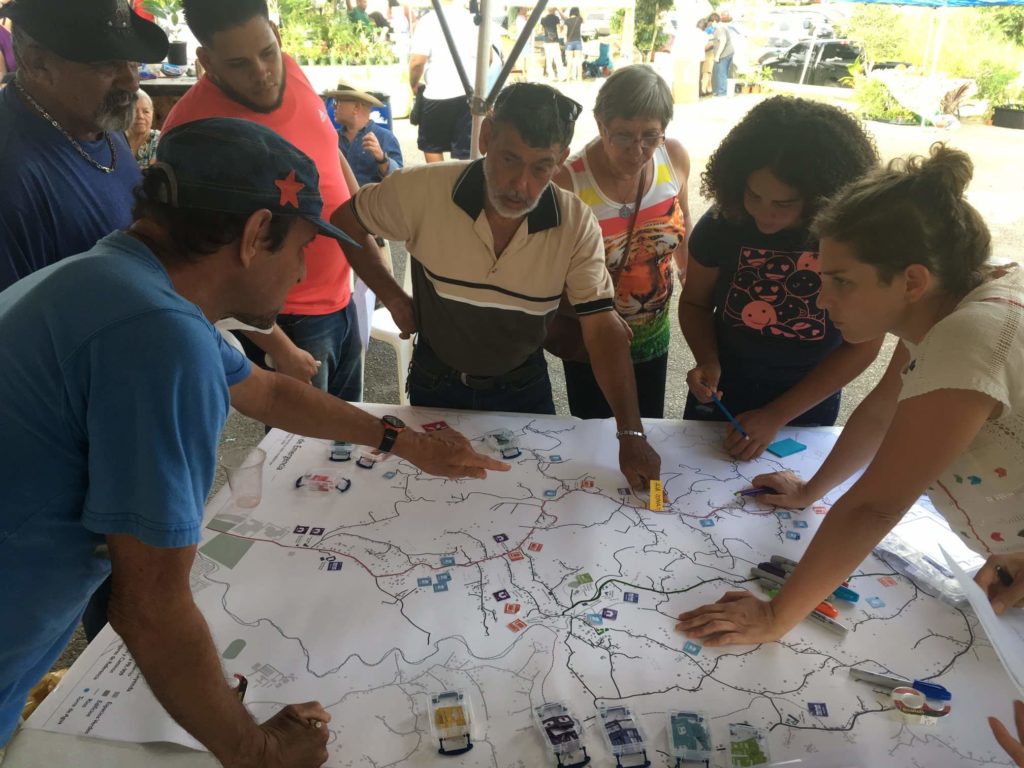 Photo Credit: Hester Street
What does a neighborhood shaped by its people look like? How do communities take ownership over their schools, their streets, and how they change and develop? And how do we create the B Corp movement's vision of a "shared and durable prosperity for all?"
This is what Hester Street, an urban planning, design, and development nonprofit, is committed to understanding and building. With a mission to create equitable, sustainable, and resilient neighborhoods and cities, Hester Street works to ensure neighborhoods are shaped by the people who live in them. They are laser-focused on understanding and elevating the needs of New York City neighborhoods by lifting up local knowledge and shifting power back into communities.
"Our work is to shift power from traditional government makers to people who work and live in their communities, the people who know best," says Betsy MacLean, Executive Director of Hester Street. "We work to make sure people have a meaningful part in the future of their communities."
A mixed team of urban planners, architects, and developers, Hester Street's multifaceted work includes a combination of technical planning, design, and development with deep, meaningful community engagement. The result is increased civic participation and funding for projects that directly address community-identified needs and priorities. For example, they are currently engaging in a multi-stakeholder process with people in Bushwick and Harlem, where the city is rezoning neighborhoods. The goal is to avoid animosity and more importantly, inequitable decision-making.
"We map out the communication process so that the planning teams are talking to the community groups who are talking to the cops, parks, sanitation, developers and property owners," explains Betsy. "With this process, we outline the equity choice points."
Equity choice points include ensuring kids who live on the same block go to the same schools and creating finance opportunities for community organizations so they can own property.  Via their Technical Assistance for Community-Based Organizations (CBOs) program, they seek to buy, build, or renovate spaces to root organizations as community anchors of culture and critical service provision in their neighborhoods for the long-term. Through this program, they work with CBOs from project visioning to ribbon cutting to ensure built projects meet the needs of residents, strengthen key community institutions, and preserve cultural identity. This results in what Betsy calls "neighborhood preservation."
"We help community groups secure a mortgage for their spaces instead of giving their money to landlords. This, in turn, helps to ensure community organizing—and the voice of residents– stays in their neighborhoods forever," says Betsy.
Hester Street coordinates direct education from cohorts of community groups to municipalities so that before top-down decisions are made the possibility of course correcting for historical injustice–like redlining—is addressed. As Betsy describes it, low-income communities and communities of color are "plowed over by planners and developers."
"We are not neutral. We have a very clear mission. We are about equity. We serve low-income and communities of color exclusively. History shows that wealthy white neighborhoods will take care of themselves. Our mission is to make sure that people who aren't usually in the room—are there," Betsy explains.
And their impact is expansive. In 2017, Hester Street engaged 300,000+ residents in shaping projects and plans; developed 200,000 square feet of community facility space: libraries, community centers, open space; and developed 22 plans and addressed ten urban health issues in partnership with 55 community-based organizations.
When we met Betsy and her team at Hester Street, we immediately knew we shared a mission and vision for New York City. Through our Community Impact Program, designed to meet the funding gap needs for nonprofit organizations, Hester Street secured a $200,000 line of credit. They use the line of credit as reserves to get them through funding gaps and months where cash flow is tight. Betsy explains that they had a hard time finding the right lender.
"As a non-profit, our search for a lender was exhaustive. Everywhere we looked we found onerous terms including sky-high interest rates and monthly fees. Just when we were about to give up our search, we found Spring Bank. Not only did they understand what we needed, they offered us reasonable loan terms – in other words, they did not punish us because we are a non-profit," says Betsy.
Unfortunately, this isn't news to us. Many traditional lenders avoid lending to nonprofits because of the lack of collateral or gaps in funding. But we know they are key to thriving communities. Through our Community Impact Program, we offer flexible underwriting and customized terms specific to nonprofit organizations. And, we always waive maintenance fees. We think those giving the most should be rewarded the most.
"I wish I'd known about Spring Bank a long time ago," says Betsy. "Run, don't walk to Spring Bank! They offer the tools you need to ensure the efficient, effective operation of your organization; deep understanding of the non-profit context, and; they are working to advance positive social change in neighborhoods throughout the city. We deeply appreciate knowing that our money is in the hands of a responsible steward."
We are very proud to partner with Hester Street as both their local bank and a community ally. Read more about how you can uplevel your civic engagement with them. Join them on June 13th from 6 to 10 pm for their annual benefit gathering. Learn about our nonprofit lending opportunities, our personal checking accounts, and our online banking.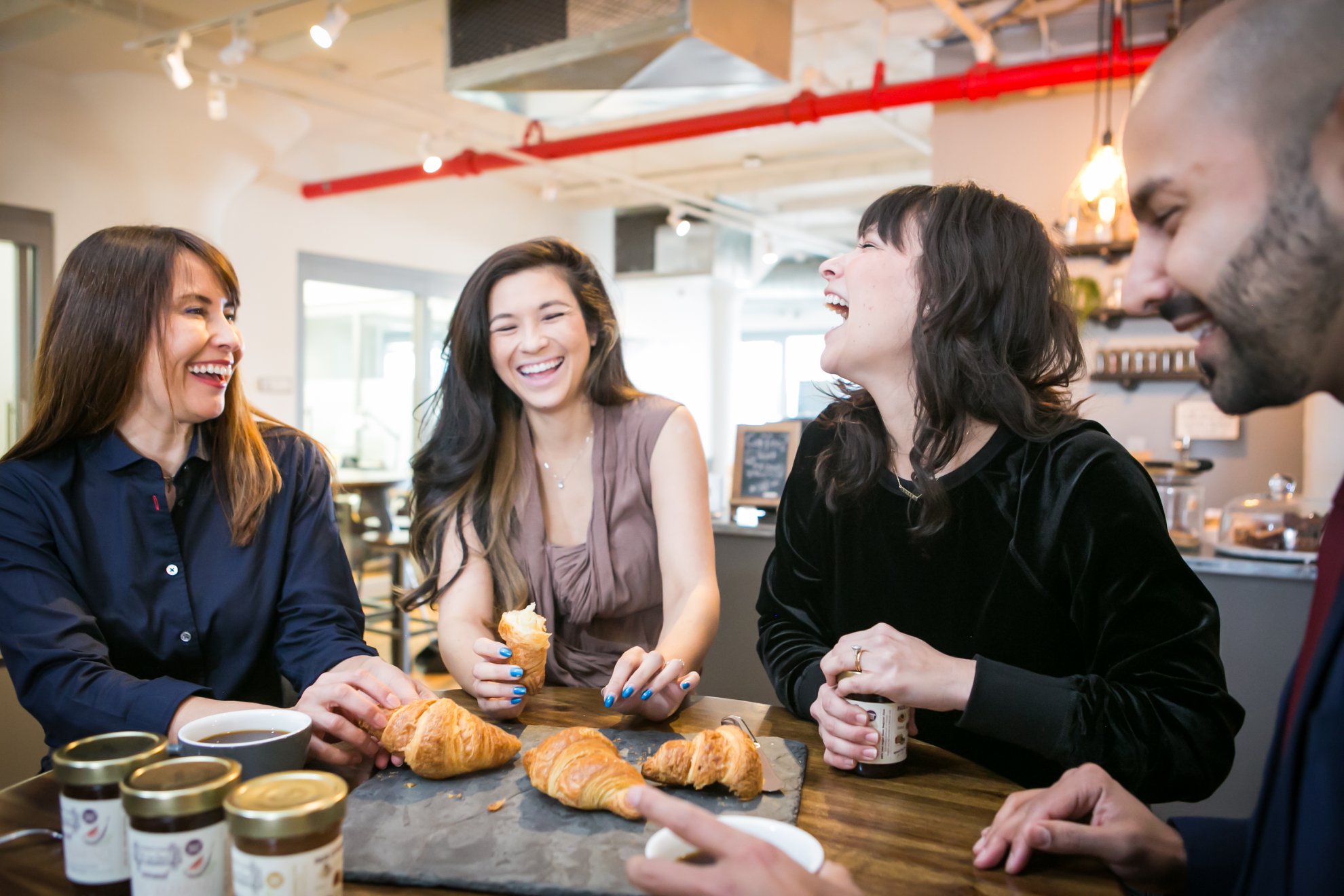 Ines Marino, our Director of Small Business Lending (left), with Jessica and Sabrina, Founders of The Jam Stand (middle), and Akbar Rizvi, our Chief Lending Officer (right). The Jam Stand partnered with us in our Small Business Grow Program. 
We are proud to have received an "Outstanding" Community Reinvestment Act Rating
For us, it's just us being us and doing what's right for our communities; investing our lending dollars locally—into the neighborhoods of the Bronx, Harlem and other parts of New York City that are often neglected by the banking industry. It's the reason we opened our doors in 2007.
That year our CEO, Demetris Giannoulias, and his founding team were determined to create financial access, the ability to build credit, save money and ultimately, prosperity for the families and small businesses of New York. Eleven years later, we know we've made a difference, and we are proud that our federal regulators acknowledge this too.
Just last week we received an "Outstanding" Community Reinvestment Act (CRA) rating from the Federal Deposit Insurance Corporation (FDIC). Enacted by Congress in 1977, the CRA started as an effort to ensure that banks provide responsible lending in areas where they headquarter. Previously, many banks opened branches in low-income neighborhoods but lent only to more affluent neighborhoods. The goal of the CRA is to minimize redlining and other types of systemic financial exclusion, requiring banks to make loans where they have branches. For us, as a for-profit, for-mission, Community Development Financial Institution (CDFI) and B Corp,  financial inclusion is at our core.
"We make credit available to people in low and moderate neighborhoods who may have no other affordable options," says Melanie Stern, our Community Reinvestment Act Officer, and Director, Consumer Lending.
Our 2018 CRA rating report includes these highlights:
The distribution of borrowers reflects excellent penetration among borrowers of different incomes
The institution's performance in making qualified investments and providing branches and other services and delivery systems enhances credit availability.
What does this mean? In two years alone we made 795 small business, multi-family and consumer loans across New York City amounting to  $50,555,000. Our Small Business Micro Line of Credit and Grow Loans range from $10,000 and $250,000 and our consumer loans, the Employee Opportunity, Credit Builder and Start Loans range between $1,000 and $2,500. We've seen the power of microlending to open doors and create new beginnings for small business owners and families time and time again.
Eric Pallas, our President, says "As a CDFI and B Corp Bank, lending to businesses and consumers in underserved communities is central to our mission. We are pleased that the FDIC has recognized us with an "Outstanding" CRA rating and that we have hit the mark with an excellent record of meeting the credit and financial services needs of low- and moderate-income communities."
We'd love for you to see what financial inclusion looks like in-action. Join us on March 1st for our TGIF-Thank Goodness It's Friday Financial Resource Fair at our Bronx headquarters from 1 pm to 4 pm. Learn more about our affordable banking products or reach out to Melanie Stern, Director of Consumer Lending and Community Reinvestment Act Officer at 718-879-5198 or mstern@springbankny.com