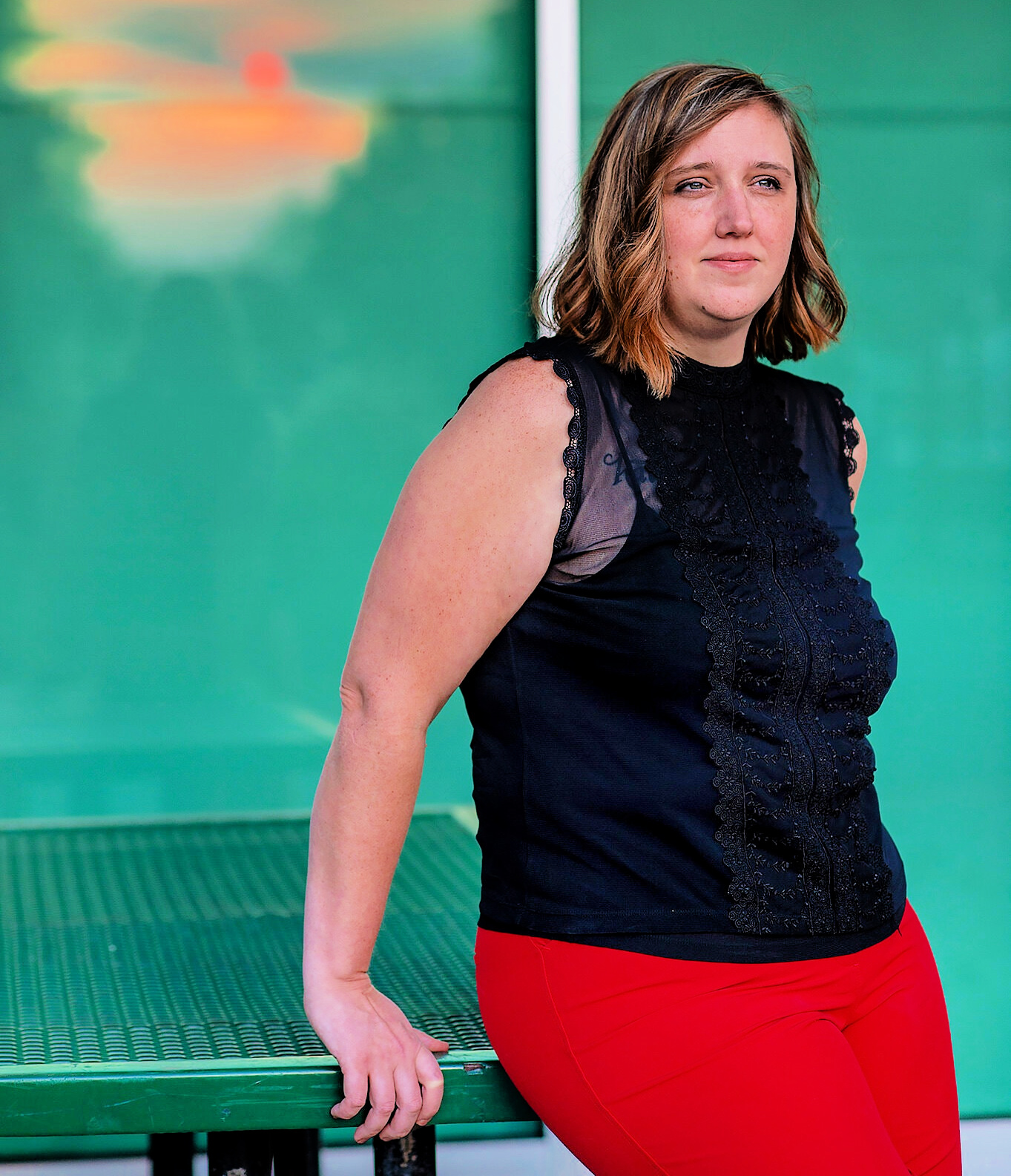 Photo Credit: Ultranauts, NY Times
As a mission-driven, community-based bank, we prioritize our neighbors and the unique financial needs of the Bronx and Harlem. Since the day we opened our doors in the South Bronx over thirteen years ago, we have been grateful for the partnership of many small businesses and values-aligned organizations, including some of New York City's oldest and most reputable nonprofits.
When COVID-19 hit, we responded by supporting our small business and nonprofit partners when they needed it most. Hours after the CARES Act passed in April of this year, our lending team got to work to assist organizations with their applications for a Payment Protection Program (PPP) loan.
We are proud to report that as of this month, we secured 360 PPP loans–valued at $86.8 million–for small businesses and nonprofits in the New York City area.  With these funds, organizations retained over 5,000 jobs.
 At the height of the lockdown, we helped Callen Lorde Community Center– a primary care center dedicated to serving the LGBTQ and homeless communities–secure a PPP loan that allowed them to continue their critical work on the frontlines of New York City's battle against COVID-19. Our partnership helped them retain 80 of their employees, all while running a temporary hospital out of a hotel in Queens.
Additionally, our lending team supported other major nonprofits organizations like Grand Street Settlement–a social services agency that helps thousands of New Yorkers–and The Forward–one of New York's oldest Jewish media publications. In total, we secured PPP loans for 53 nonprofits valued at $35 million, funding that they otherwise may not have received if they had gone to a larger bank.
But we didn't stop there. We also partnered with values-aligned companies that are revolutionizing the business world. We take particular satisfaction in our work with Ultranauts, a company that mainly employ autistic workers for technology jobs.
With 75 percent of its workforce on the autistic spectrum, Ultranauts uses a unique set of operational policies and practices. Recently featured in The New York Times, their remote work model and unique accommodations have become a model for businesses looking to foster inclusion. And yet, pivoting to 100 percent remote working could not shield them from the economic downturn caused by the global pandemic. Ultranauts lost business as their clients made cuts to cope with the impact. To cover these unexpected costs, they partnered with us to secure a PPP loan that allowed them to adapt to the changing market, and soon, they were flourishing once again. Ultranaut acquired new clients and has plans to expand its workforce from 90 to 200 employees in the next two years.
We are proud to support organizations that, like us, are working to build an economy that includes and nurtures every individual's talents. We are proud to help small businesses and nonprofits continue their work during this historic time.
If your small business or nonprofit requires financial support during this time, we can help you secure a lending option that best suits your organization. Do not hesitate to contact us at 718-879-5000. And we can set up a small business checking account or a nonprofit checking account so that you keep your money local, investing in communities in New York City that have been impacted by the COVID-19 pandemic.
Check out the article about Ultranauts in The New York Times. Read about our work with Callen Lorde Community Center, Grand Street Settlement, and The Forward. Open a small business checking account today.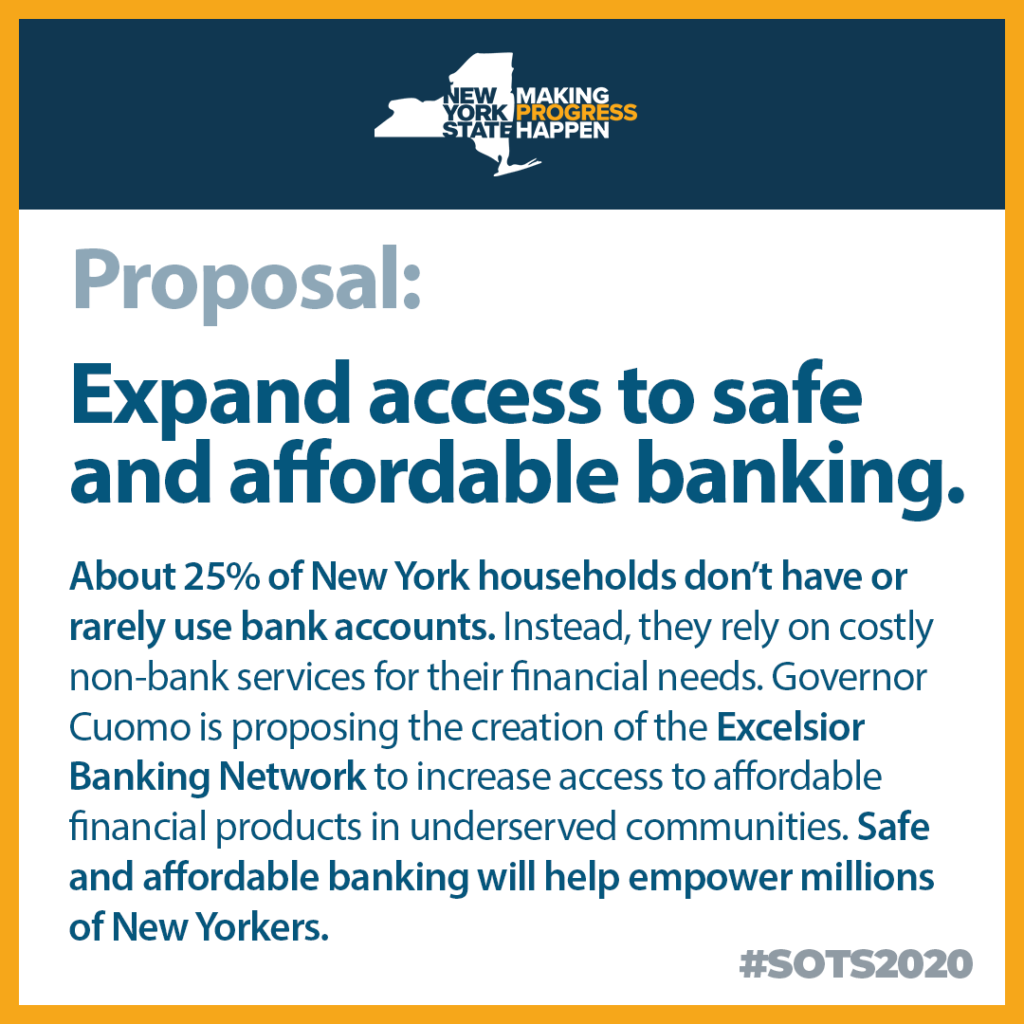 Governor Cuomo Announces a 2020 Statewide Proposal for CDFIs
At the beginning of this new decade, we shared our 2020 vision: To continue to explore ways we can invest our dollars responsibly, so more people have access to the financial tools they need to build wealth. Thankfully, we aren't standing alone in this work. We proudly share our mission of financial inclusion with the 83 other US Treasury Certified Community Development Financial Institution Funds (CDFl's)– mission-driven financial institutions, banks, credit unions, and nonprofits–in New York State. And, Governor Cuomo does too.
Governor Cuomo recently announced the "21st Proposal of his 2020 State of the State: Expanding Access to Safe and A/fordable Financial Services." In partnership with CDFls, his proposal includes the following strategies:
$25 million in new funding over five years to increase access to affordable financial products in underserved communities across New YorkState through, New York's Community Development Financial Institutions Fund (CDFI)
The launch of a statewide "Office of Financial Inclusion and Empowerment" as a single-stop provider of financial services and providers across housing, student loan, debt, and general financial literacy
The expansion of access to safe and affordable banking services, credit and financial education, particularly for women and communities of color, typically excluded from the current financial systems.
To execute these strategies, Governor Cuomo proposes to work with CDFls, who, like us, are often the sole providers of banking and other financial products and services in low-income communities. Under the Governor's proposal, participating CDFls will leverage this funding, providing upwards of $300 million in targeted investment in underserved communities in New York for consumers, affordable housing, and small businesses.
Governor Cuomo's vision includes expanding access to low-cost bank accounts to low-income New Yorkers who often find that the only accessible banking service in their communities are high-cost check cashers who take huge finance fees out of people's paychecks. According to the FDIC, approximately 25 percent of New York households do not have bank accounts or seldom use one and rely on costly non-bank services for their financial activities. Expanding financial literacy education and access to microcredit for small businesses is also part of the proposal.
In a press release announcing his strategies, Governor Cuomo acknowledged the prevalence of exploitation by predatory lenders in low-income communities in New York:
"We've made significant strides expanding access to banking services for low income New Yorkers, but too many people still live in banking deserts," Governor Cuomo said. "As a result, these New Yorkers often turn to costly check-cashing services or take out illegal predatory payday loans because they can't access affordable small business loans at community banks. These sweeping proposals will provide New Yorkers with the services they need to build their credit, improve financial literacy, and take charge of their economic futures – helping build a fairer and stronger New York."
Linda MacFarlane, the Executive Director of CDFI, Community Loan Fund of the Capital Region and chair of the New York State CDFI Coalition of which we are a proud member, has been discussing the proposal with the Governor's office, the New York State Department of Financial Services and Empire State Development Corp. and has "high hopes" for the Governor's new proposal.
We do too. We are proud to serve New York City as one of 83 CDFIs in the state who helped shape the New York State CDFI Fund to expand access to safe and affordable products. Creating access to credit and wealth-building financial tools for communities typically excluded is why we headquartered in the Bronx—and why we continue to explore ways in which to serve New York City as a mission-driven, ethical bank.
We invite you to join us in the mission. 
Register for this year's NY State CDFI Conference in Albany, March 30-31st. You will learn more about how you can join CDFIs in making a difference every day in New York, State. Invest your dollars locally with us. Open a Green Checking account with us today. When you bank in your community, you support the credit and wealth-building of your neighbors and local businesses.
Read our 2020 Vision and follow us on LinkedIn, where we share stories about what it means to be an ethical bank, and our vision for a shared and durable prosperity for all.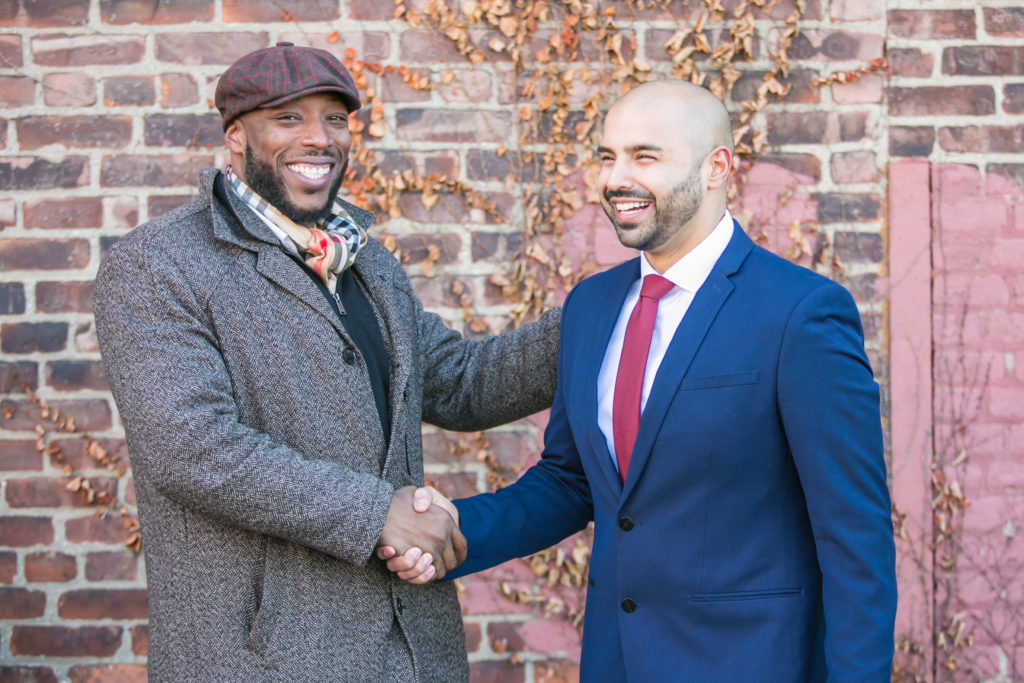 We are proud to serve the community of Harlem at our branch, just down the block from Frederick Douglass Circle.
"The Harlem Community is filled with a lot of history and culture. Many of the business owners know each other, and they're always surprised when they bump into each other at Spring Bank to find out they also bank with us," says Jason Ohene, our Relationship Manager.
Josefa Ruiz, our Harlem Branch Manager, recently helped a local business owner of a hardware store on 116th in Harlem move his accounts because he wanted a more personalized experience. Plus, the fees at his big bank continued to increase. He was ready to move his accounts to a smaller financial institution in his neighborhood.
"We work with many entrepreneurs in Harlem. They are conscious about the impact of their dollars and don't want to put their hard-earned dollars with big banks who invest in fossil fuels and other exploitative practices," says Josefa. "Many people bank with us because we are a B Corp, as well."
As an ethical bank, the first B Corp bank in New York City, we take great pride in belonging to a community like Harlem. And as a small business ourselves, it's been our pleasure to serve other small businesses.  Jason views his role—as the Relationship Manager at a community bank in Harlem as an opportunity to be a resource.
"My focus is to help small businesses thrive, and I try to do so by providing unmatched direct personalized service to our small business customers.  I always work to serve as a resource and would never want to leave them feeling like they're left out in a "banking abyss" with no viable support," says Jason.
"It's a very tight-knit community here," Josefa says, echoing Jason. "And we have the privilege of knowing our neighbors, and to support their banking needs personally."
Let us help you meet your banking needs. Visit our Harlem branch (2049 Frederick Douglass Blvd, New York, NY 10026) to say hello to our team. Let us know how we can help you reach your financial goals and grow your vision. We will do our best to help you get there. Contact our Harlem Branch Manager, Josefa Ruiz, for more information about Spring Bank at (718) 879-5110. Learn more about our mission in a recent blog piece: For the Financial Inclusion of New York City: Why We Exist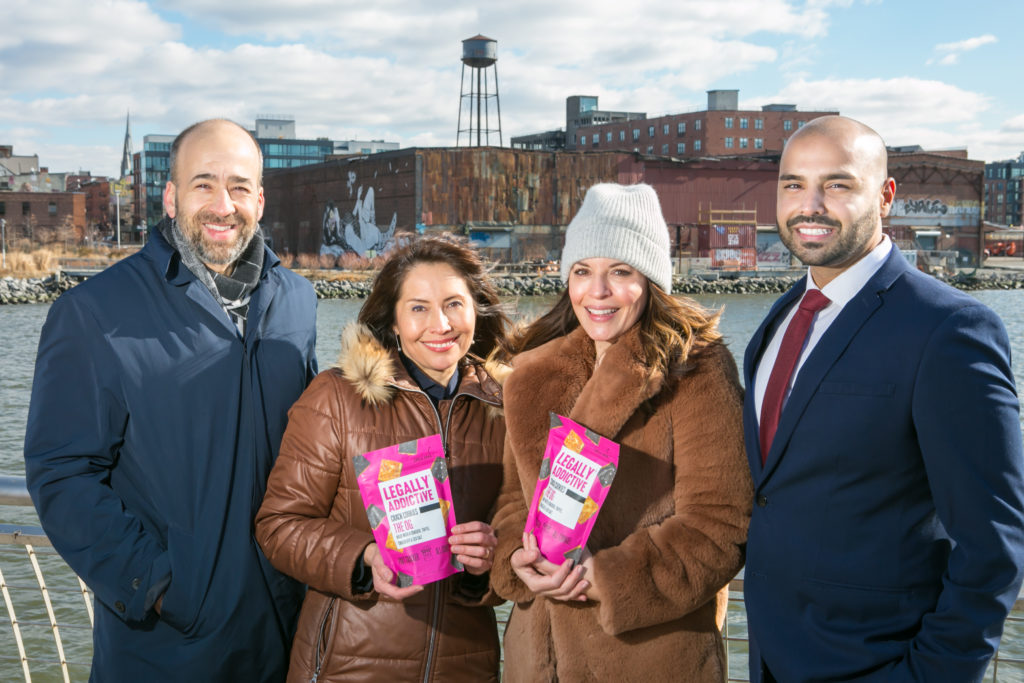 Pictured Above: Legally Addictive, one of our very successful small business clients in New York City, with our CEO and CLO
Just a few weeks ago, we hosted a 'Bronx Small Business Resource Fair.' The staff of New York City's Office of Small Business Services (SBS) joined us at our Bronx headquarters.  Dozens of local businesses and budding entrepreneurs attended to connect with them and to learn how to grow their organizations. We were thrilled to partner with Councilwoman Vanessa Gibson to host this event.
The purpose of the gathering was for city agencies to offer critical information to small business owners as they launch companies in the Bronx. Equally important, agencies shared about new business regulations. From the Department of Environmental Protection to Sanitation and Consumer Affairs, businesses learned how to avoid easy violations and keep their businesses in good standing.
Our CRA Officer, Melanie Stern, opened the event by sharing about our mission, noting the commitment from the city representatives to the thriving of the local economy in the Bronx.
"The city representatives with us today are committed to the growth of small businesses as they are a key part of a thriving community. Additionally, they understand that an outcome of gentrification is business displacement," said Melanie.
In his opening remarks, SBS Commissioner Greg Bishop highlighted important SBS initiatives. He spoke about how important it is for small business owners to understand local regulations, so they avoid hefty fines. Recent SBS  initiatives include "We Fund Credit," providing affordable lines of credit to women entrepreneurs and "BE NYC," helping more black-owned businesses start and grow.
Our co-sponsor, Councilwoman Gibson, welcomed our guests and talked about the numerous ways community and government collaboration can support the viability of the small businesses in the neighborhood. She highlighted recent efforts of how the city stepped in to support the sustainability of a multi-generational,family-owned sports apparel retailer near Yankee Stadium.
We are proud to partner with and support the hardworking city officials, entrepreneurs, and community change agents in the Bronx. And, we are grateful to be a community-focused bank, serving as a resource and gathering place for our neighbors. Thank you to the SBS, Commissioner Greg Bishop, and Councilwoman Gibson for co-hosting a very special day.
Read about SBS. Learn about our Small Business Lending Program. Open a Small Business Checking account.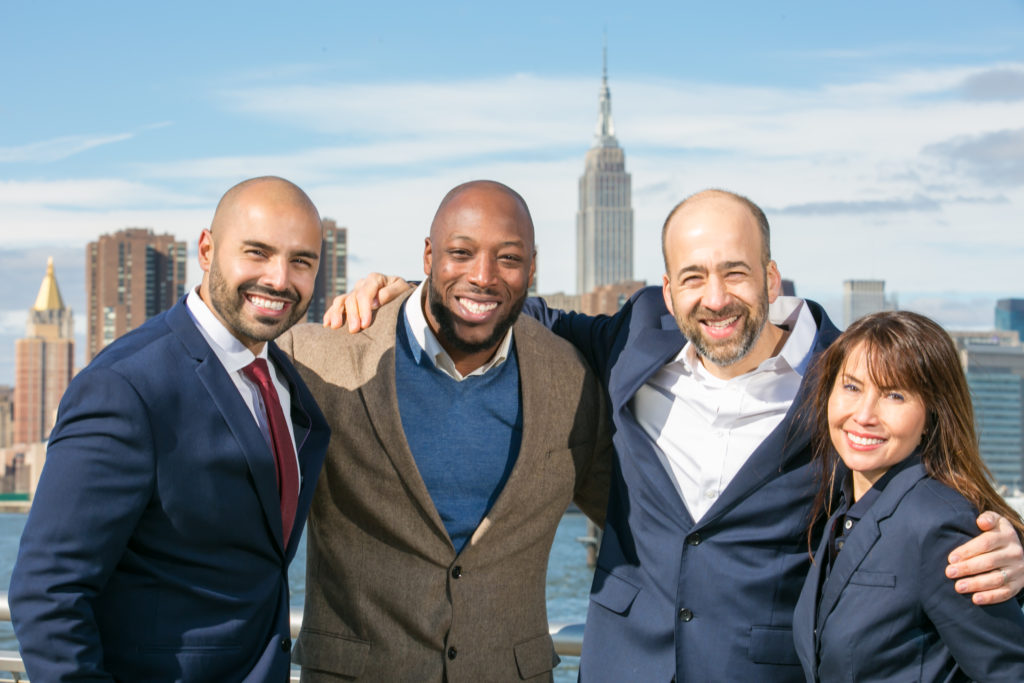 Corporate social responsibility. Sustainably responsible investing (SRI). Ethical banking. Banks have joined the world of sustainable business. And the language about their on-the-ground environmental and social impact isn't exactly clear. Banks know the growing LOHAS (Lifestyle on Health and Sustainability) and the conscious consumer movements value over 300B dollars. Creating a prime marketing opportunity for financial institutions, they brand products like "Clean Energy Savings" and "Green Checking" (check out the Spring Bank Checking account after you finish this blog!) So, it is greenwashing? Or is your financial institution legitimately leveraging their investments to make a positive difference?
Here are three tips to know if your bank is ethical:
Your Bank's Community Reinvestment Act (CRA) rating?
Start by looking at your bank's publicly available CRA rating. The CRA legislation was passed in 1977 to prevent the practice of redlining and to minimize systemic financial exclusion. We are proud to have received the highest available CRA rating from the FDIC, "Outstanding," based on our record of meeting the credit needs of low and moderate-income neighborhoods in 2018.
Is Your Bank a US Treasury Certified Community Development Financial Institution (CDFI)?
Since 1994 the United States Treasury has certified a singular number of banks as CDFIs based on their use of deposits to provide low-and moderate-income communities the credit they need. If your bank is a designated CDFI, you can be certain that your money is lent to the communities that need capital the most. We proudly became designated as a CDFI in 2014 and have received numerous awards and recognition from the CDFI Fund.
Is Your Bank a B Corp?

B Corps, or Benefit Corporations, lead the way of metrics-based reporting and transparency to impact in the sustainable business movement. Businesses obtain B Corp status in two ways: completing the B Impact Assessment and through the legal business structure of a Benefit Corporation. B Corps receive a score through the B Impact Assessment which measures the impact on workers, customers, suppliers, community and the environment. Stakeholder primacy drives B Corps to "build a durable and shared prosperity for all."

We are honored to be New York State's first B Corp bank and to receive four awards as Best For The World among the top 10 percent of all B Corps—just last week! And to that point, next week marks the annual B Corp retreat in Los Angeles. We are excited to gather with the movement. If you are attending, we would love to have you join our CEO, Demetris Giannoulias, and our partners at Neighborhood Financial Trust for a Tuesday breakout session at 2:45 PM titled: "Employee Financial Health as Smart Business." We will address the financial challenges faced by employers and employees and available tools by which to build healthy financial workplaces. Check the schedule on the retreat app on Sunday for more details.

We'd be happy to talk with you about financial inclusion, affordable banking products like our Start Loan and Green Checking account and how together, we can build an economy that benefits all of us.

Find the CRA rating of any bank in the USA. Learn more about ethical B Corp banks and their scores. Read about our 2019 Best For The World award.
Heidy De La Cruz, our Bronx Branch Manager, is in service to her team and her customers. With every interaction, her mission is to offer support, even if it's not related to banking.  
"I always try to support a customer in any way they need it. Sometimes it's offering a point of view or providing resources. I like to help people in any way possible even if it's for only ten minutes," says Heidy.  
When Heidy started working as a receptionist at Spring Bank six years ago, she knew she wanted to build her career in banking. But looking back she can hardly believe how far she's come so quickly.  
"When I started at Spring Bank, I had a smaller mentality for life. I felt comfortable as a receptionist. But within a couple of years, I saw new opportunities, and I started asking for more work," says Heidy.  
With the encouragement of colleagues, it started to click for Heidy. Not only was she capable of succeeding as a banker, but she was also in pursuit of becoming a manager.  
"I started growing. I asked the bankers if they needed help because I wanted to learn more. Working as a receptionist wasn't enough for me. I wanted to learn all aspects of the bank so that I could easily solve any client problem," says Heidy.
Heidy's career development is no surprise to us. Her commitment to her learning and her leadership has paid off. In just a year becoming the Branch Manager of our Bronx branch, she led the effort to increase the size and effectiveness of her team. She gives credit to her colleagues and her hardworking team for their consistent encouragement and support.  
"I doubted myself so many times. But I have great support at Spring Bank. If I ask for help, they are always willing to answer my questions, "says Heidy.  
In addition to her role as Bronx Branch Manager, Heidy is also studying Business Administration with a focus on management. She receives her associate degree in the spring of 2020 and begins her bachelor's degree at Baruch College that fall. Heidy is also the proud mother of three, beautiful girls.  
"My girls are my highest motivation. I can't tell them to be someone if their mom isn't someone," says Heidy. "They tell me, 'Mom, I want to be like you.' I tell them, 'No, you'll do better than me. When life gives you an opportunity, make the most of it. If you do good by people, good things will happen to you," says Heidy.
'Doing good by people' is the approach Heidy takes every day in her work at Spring Bank. She views each customer as part of the Spring Bank Family.
"We are not an ordinary bank. We know who you are, and when you bank with us, you become our family. We will offer you 100 percent of our attention, know your family, care about your future. That's why you should bank with us," says Heidy.
We are very proud of Heidy, her hard work and commitment to her growth and the "family" she's grown at our headquarters in the Bronx. Learn how you can join the Spring Bank family by opening a personal checking account online. Check out our small business checking. And stop by our branches in the Bronx or Harlem. As Heidy puts it, "if we can do good by you," in any way, let us know.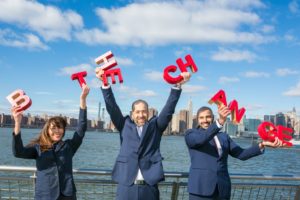 We've got big news, just in time for Earth Day! Spring Bank is officially carbon-neutral! We've offset over 192,874.28 kg of CO2e and are helping to preserve the Amazon rainforest and support 80 indigenous families who live in the rainforests of Pará, Brazil as a result.   Through a partnership with fellow B Corp, Carbon Credit Capital, we've spent the last several months assessing our carbon outputs in an "emissions inventory."  The emissions inventory analyzed our business operations from January 1 to December 31, 2018, from our headquarters in the Bronx and our Harlem branch across three significant externalities:
Office Energy Consumption: Carbon Credit Capital assessed our use of grid electricity, renewable electricity and natural gas. As of November 1, 2018, we proudly partnered with Green Mountain Energy to source 100 percent renewable energy. We also did a lighting energy saving upgrade at our Bronx headquarter which saved 42,863 kWh. Overall, data showed us that our 2018 energy consumption created an output of 69,985.66 kg CO2e. We are excited that next year this number will be zero!
Office Waste: We are taking significant steps to convert our office into a recycling-first, composting organization. Through a waste audit and partnership with GreenFeen OrganiX—a waste management, a worker-owned cooperative that uses innovative green technology and grassroots organizing to redesign current waste systems– these changes include separating organics, paper/cardboard, and metal/glass/plastic for more rigorous recycling and more frequent pick-up. Increased signage, employee training, and the pursuit of an electronics recycler partnership will be implemented in the next few months. Our waste emissions totaled 15,719.95 kg CO2e.
Employee Transportation: We assessed the year-round commutes of 37 of our employees, including each employee's commute distance, transportation modes, and seasonal habits. The carbon outputs of nine business trips outside of NYC and weekly average travel distances for customer site visits were also assessed. Our total transportation emissions for 2018 was 107,168.67 kgCO2e.
Our carbon credits support ADPML, an organization who works with 80 indigenous families to train them in land and land-use stewardship in an area of the Brazilian rainforest that is being logged rapidly and illegally to make room for cattle ranching that further degrades the land. By ensuring over 368,000 acres of virgin rainforest will never be logged for cattle ranching, ADPML expects to reduce over 22 million metric tons (or over 48.4 billion pounds) of greenhouse gas.
We are incredibly proud to be carbon neutral! As a B Corp bank, it's a journey we've been on for many years, and we give gratitude to Carbon Credit Capital for their partnership and guidance as they helped us achieve this milestone.
"We are thrilled to help Spring Bank become carbon neutral and hope that they can be a beacon for other CDFI's and financial institutions in general to do the same. With this announcement, we're showing that carbon neutrality is possible and meaningful for everyone," says Reed Shapiro, Director of Business Development at Carbon Credit Capital.
We can't think of a better way to celebrate Earth Day!
Read about the Amazonian project our carbon credits support in Brazil. Go carbon neutral and partner with Carbon Credit Capital to assess your footprint. Happy Earth Day!