Last year we announced that we became carbon neutral! With the support of fellow B Corp, Carbon Credit Capital, we worked to offset our carbon outputs. Today—we are prouder than ever to support small businesses in the green and sustainability space, like cleantech startup, Conamix. Conamix was one of Spring Bank's earliest recipients of a PPP (Paycheck Protection Program) loan.
Located in Ithaca, New York, Conamix develops cobalt-free materials for lithium-ion batteries used to power clean energy solutions like grid storage, electric vehicles, and, eventually, electric flight. They have grown quickly, with many partnerships in sustainable and cleantech around the world.
How does an Ithaca-based company become a customer of a Bronx-based community bank? Founder and CEO, Charles Hamilton, was looking for the right kind of community bank because he knew prioritizing excellent service would be good for his business.
"As a small business, I knew a small community bank would provide the personal human touch we need and offer the ability to work more directly with the management staff. We've had amazing service at Spring Bank," says Charles.
When the SBA lending options became available, we knew Conamix would qualify.
"I sailed through the PPP application process with Spring Bank. I got notification within days that we were approved, we quickly moved to closing, and the funds have already been disbursed."
For Conamix, the SBA PPP loan has been critical.
"Because of the personal service at Spring Bank, I was approved for the PPP before much larger banks were accepting applications," says Charles.
As an SBA preferred lender, we remain committed to prioritizing the needs of small businesses in New York City, and beyond. We know the COVID-19 health crisis has forced hundreds of small companies and startups to lay off employees or close their doors. We will continue to do what we can to change that story.
"For us, as a startup, the decision to bank with Spring Bank was timely. I didn't anticipate when we would need good service, but I knew a community-based financial institution was the right choice," sayhttps://spring.bank/the-cares-act/s Charles. "And I love that Spring Bank is a B Corp. They know they can do good in the community, generate returns, and provide good service. What's not to love?"
Read more about Conamix. Read about our journey to carbon neutral. Learn more about the CARES Act.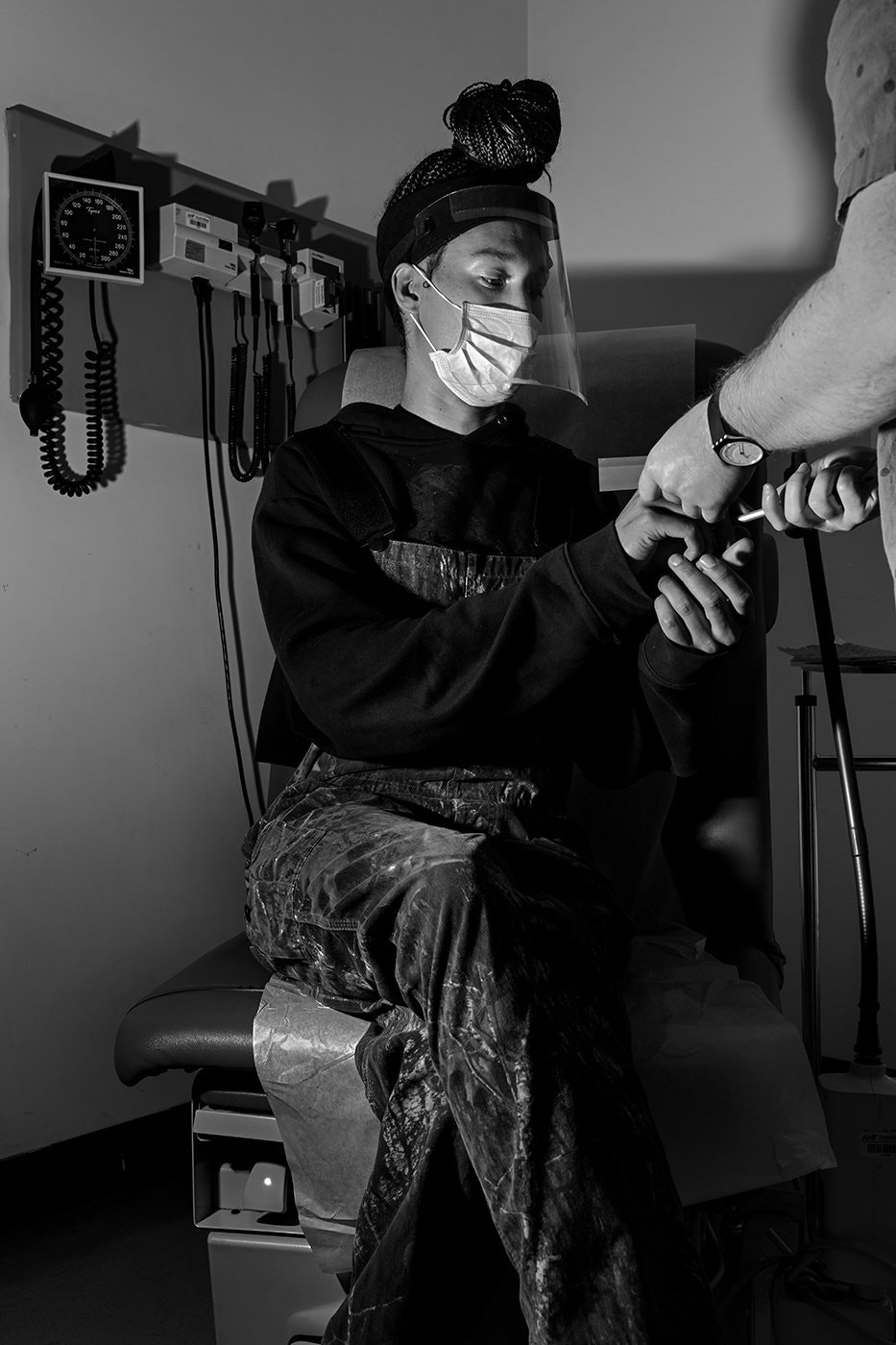 With over 20,000 patients across the city, Callen-Lorde Community Health Center has provided outpatient health care to New York City's LGBTQ and homeless community for over 50 years. So, when COVID-19 infections in New York City spiked in early March and the emergency rooms and hospital beds were overflowing, Charles King, the CEO of Housing Works, knew who to call. Wendy Stark, the Executive Director of Callen-Lorde, quickly took him up on his proposition to work together.
"We quickly pivoted to be part of the city's front-line health care response. And under very dire circumstances, our staff turned a hotel into a field hospital to serve COVID patients. We've needed more staff than we thought because people were sicker than we expected," says Wendy.
In a matter of hours, Housing Works and Callen-Lorde converted a 133-room hotel in Queens into a hospital, pharmacy, and testing center. In addition to managing their telemedicine program for current patients, the Callen-Lorde team worked day and night to support the influx. And they were running out of money. The volume of their services increased, but payment and government support did not.
When the SBA CARES Act funding became available, Wendy immediately applied for the Paycheck Protection Program (PPP) with a large financial institution; they were not successful. Three days before the SBA portal opened for the second round Wendy held an all-team meeting to announce that Callen-Lorde had no choice but to furlough 80 employees— that's when one of their employees referred them to us.
"It's been incredibly emotional. The Spring Bank team worked over the weekend to help us secure the PPP loan, and by Monday morning, I delivered happy news to the team that we did not have to furlough anyone right now," says Wendy. "We had a staff call with the Spring Bank team to celebrate."
The PPP loan provides Callen-Lorde with two months of funding and time to secure longer-term fiscal support as their team continues to work, day and night. The transformation of the health care system, one that is accessible for all New Yorkers, is also of the highest priority for Wendy.
"People have talked about this moment as an equalizer. It's not. COVID-19 has impacted people of color, and people with less access to ongoing services most acutely," says Wendy. "We need a centralized, single-payer, unified system that works to the benefit of our entire society. We need a total transformation."
Callen-Lorde and Housing Works continue to operate the working hospital at the hotel in Queens. They plan to serve as many people as they can for as long as they can. Partnerships with other health centers, affordable housing providers, and community-based organizations have been crucial to their journey. We are humbled and grateful to be one of those partners.
"As a result of COVID-19, we are now connected with a financial institution oriented to serve people who are underbanked. Our overnight partnership with Spring Bank shows the beautiful way a community can organize during a crisis. It's important that we raise our voices together," says Wendy.
Raise your voice on behalf of Callen-Lorde by donating to their emergency fund. Read a feature piece about Callen-Lorde in the New York Times. Learn more about their COVID-19 services. Read about PPP Loan forgiveness on our website.
Bragging Big this B Corp Month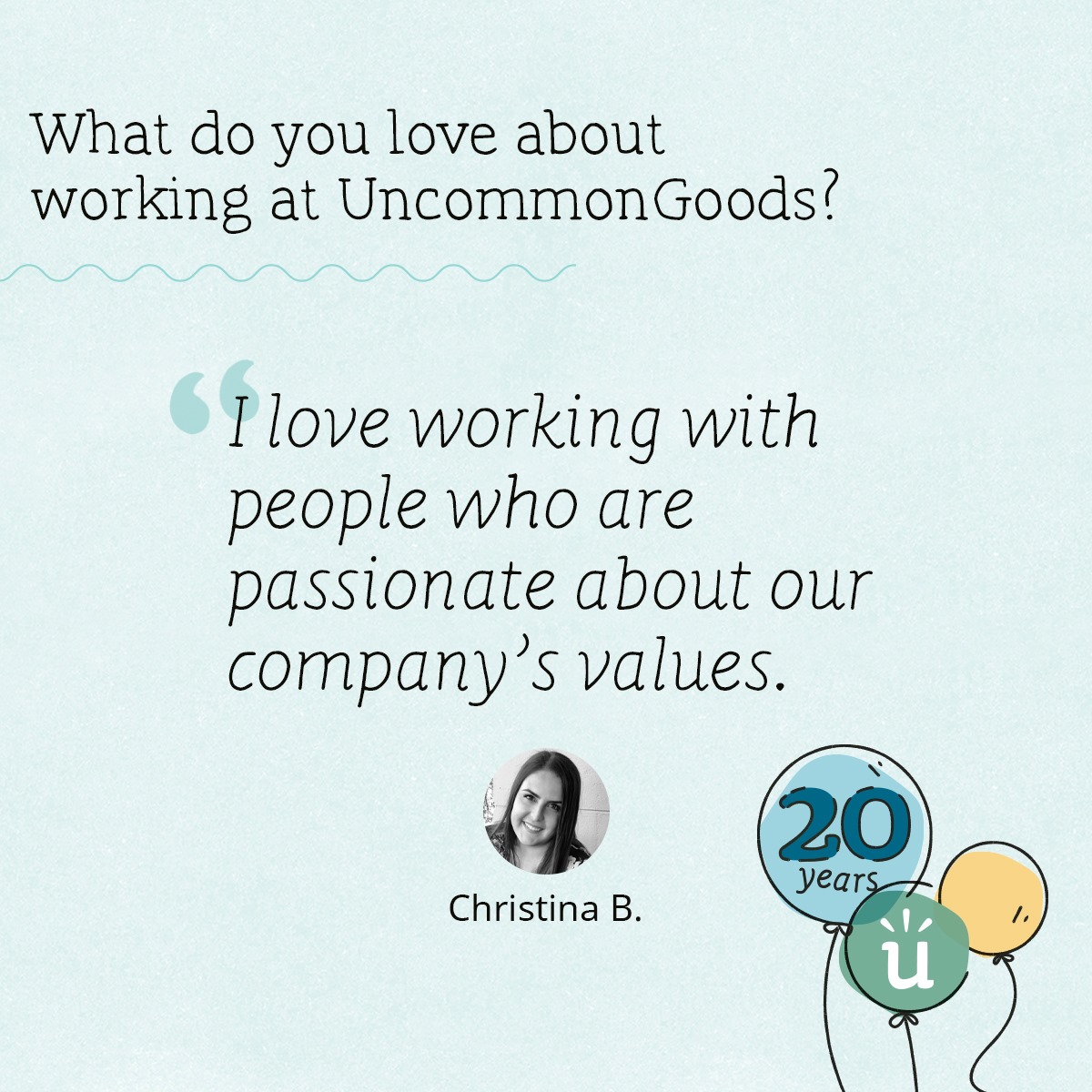 We get big-time bragging rights. Our clients make it so easy. As the first B Corp bank in New York City, we are proud to be the financial institution many B Corps in the city choose to trust with their accounts, borrowing needs and programs for their employees. And, to launch our B Corp month celebrations, we are excited to exercise our bragging rights about a unique Brooklyn-based B Corp, Uncommon Goods.
One of the first online marketplaces for makers to sell their crafts, homewares, and customizable gift options Uncommon Goods offers products that meet the highest standards for design and social responsibility. In fact, they created a Vendor Code of Conduct, which outlines their commitment to protecting animal life, fair and equal pay, and sustainable supply chains-to which every vendor is held accountable. And they offer gifts you can't find anywhere else. Some of our favorites include their New York Times Custom Front Page Puzzle and made-in-Brooklyn, Bee Knee's Salted Honey.
Twenty years in with over 200 employees, Uncommon Goods boasts a reputation for supporting and scaling the small businesses of hundreds of artisans with thousands of packages shipped daily from Brooklyn across the country. And year over year, they are equally acknowledged as being a great place to work.
When the UnCommon Goods HR team learned about our Employee Opportunity Loan program that provides access to capital and free financial counseling, they knew it was another tool to support their employee-first culture.
"We weren't offering an employee loan program or financial counseling for our team. Spring Bank's program can help our team create healthy financial habits, build savings, and it caters to all employees across departments. It was an attractive opportunity for us," says Jennifer Coleman, PR & Affiliate Marketing at UnCommon Goods.
Our Employee Financial Empowerment Program serves as a tech-enabled comprehensive financial health tool. The Spring Bank Employee Opportunity Loan provides lip to $3000 with no minimum credit score requirement and built-in savings and credit building features. And, the Trust Plus program from Neighborhood Trust Financial Partners gives employees access to free, unlimited, and personalized financial counseling via phone, Skype, or text.
Just a few months after the launch at Uncommon Goods, fourteen employees have taken advantage of the Financial Empowerment Program.
"So far, we've heard great things from employees about the experience with the financial counseling and loan program. And working with Spring Bank as a fellow B Corp, is important to us, too," says Jennifer. "The biggest reason people apply to work with us is because we are a Certified B Corp. The B Corp ethos is part of our culture. We attract top talent who are interested in civic engagement,volunteerism, and who want to contribute to what we are building together," says Jennifer Coleman, PR & Affiliate Marketing Manager at UnCommon Goods.
In addition to offering paid volunteer days, and double the federal minimum wage as starting pay for hourly team members, UnCommon Goods has been an active supporter for paid family leave laws. Named as a "Business Champion" by Family Values at Work, Founder & CEO Dave Bolotsky, advocated for mandated paid time off for new parents, caretakers of ill loved ones.
"We offer 12 weeks of paid time off for primary caregivers and gender-neutral family leave," says Jennifer. "And we are committed to offering a livable wage for our employees."
Lucky us to have values-aligned partners like Uncommon Goods who use their business as a vehicle for social and environmental good, and community-building.
We are proud to celebrate B Corp month with UnCommon Goods, our other partners in the Employee Loan Program, Greyston Bakery, Crave Fishbar, and Pistici restaurant, and the 150+ other B Corps in New York City.
Read more about the UnCommon Goods story. Get the details about our Employee Financial Empowerment Program and learn about other B Corps who participate.  Request more information about our Employee Opportunity Loan.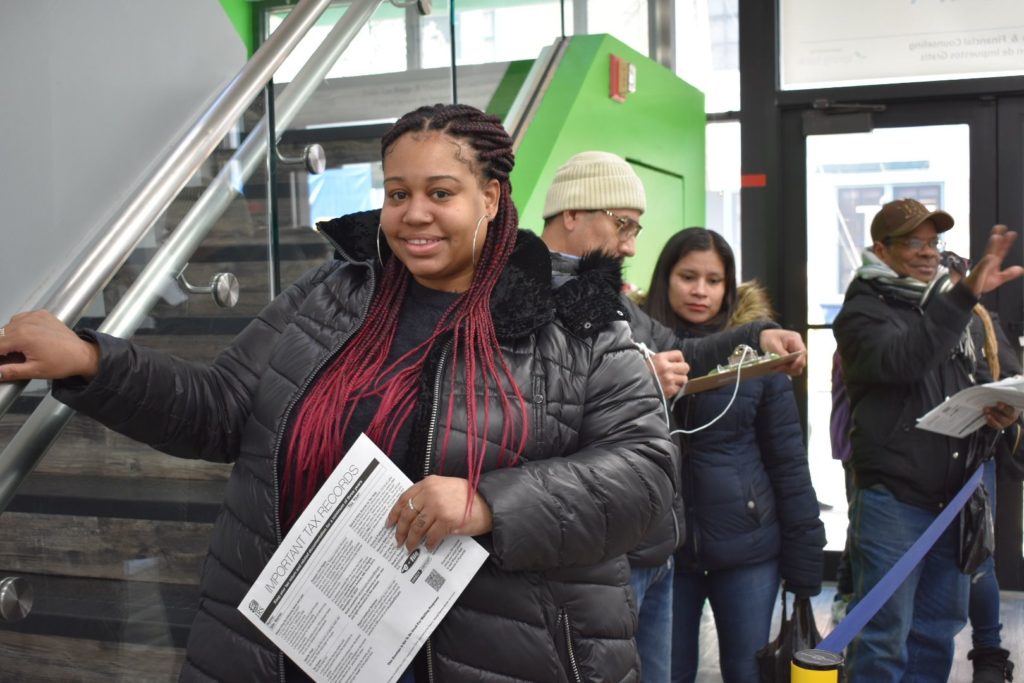 When we opened our doors in the Bronx over twelve years ago, we did it with Ariva, a community-based, nonprofit organization. We have been on this journey together. Not only do we share headquarters at our Bronx offices on 167th street, but we also share a mission to strengthen financial stability and expand the financial inclusion of  New Yorkers.
Ariva provides free tax preparation and free financial counseling to low-income residents of New York City. In December, Ariva received one of eight designations from the Department of Consumer Affair's Office of Financial Empowerment as a New York City Financial Empowerment Center—one of two in the Bronx—and we are, of course, excited to share this news.
"As a New York City Financial Empowerment Center, we can extend our reach and better serve our clients. It also adds a new dimension to our work and the impact we make," says Irene Baldwin, Executive Director of Ariva.
Since 2003, Ariva has prepared free tax returns for over 100,000 clients, returning more than $150 million in total refunds. Returns vary in dollar amount, and many of Ariva's clients return year after year. They often count on their tax return to support their annual household income. Eighty-eight percent of Ariva's clients earn less than $30,000 annually; Ariva knows that even a small refund can prevent one of their clients from using predatory financial services and can help a family start saving.
\Witnessing families gain confidence in their financial knowledge, make more informed financial decisions, and increase their financial security are a few of the reasons Ariva's hardworking staff and committed volunteers know their work matters. We are proud to host one of their year-round tax preparation sites and one of their financial counselors in our branch. For Irene, the host matters:
"Spring Bank is the perfect host. We share values and mission. As one of the only banks in the neighborhood, people come to the Bronx branch for their financial needs. We provide complimentary services and offerings and refer clients to each other".
Ariva's services are available to all. Their winter hours for their free tax preparation program are (69 E. 167th Street)
Mondays, Tuesdays, and Thursdays: 4 to 7:30 pm
Wednesdays: 12 to 7 pm
Saturdays: 10 am to 4 pm
The hours for free one-on-one counseling are: (until April 30th)
Mondays, Tuesdays, Wednesdays & Thursdays: 11 am to 7:00 pm
Fridays: 2 to 5 pm
Saturdays: 9 am to 5 pm
Clients are invited to walk-in, and no appointments are needed. Read this checklist to make sure you bring the proper paperwork before arriving.  For more information about Ariva's mission, services and locations across New York City, visit www.ariva.org
A piece by Oscar Perry Abello of Next City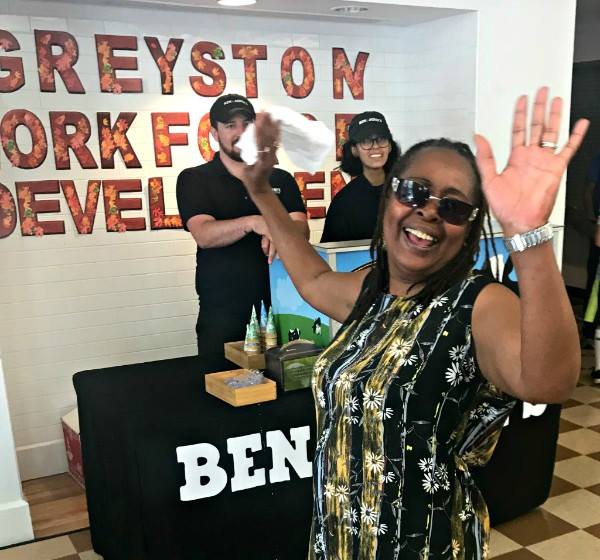 A few weeks ago, we celebrated a milestone- surpassing the 1000 loan mark in our Employee Opportunity Loan program and providing credit to New York City and Westchester workers when they needed it most, helping them build or improve credit scores and accumulate savings.
One of the social enterprises we partner with is Greyston Bakery.
In his recent article "What If Your Job Could Be Your Credit Score?" in Next City, reporter Oscar Perry Abello, wrote, "You may not have heard of Greyston Bakery, in Yonkers, New York, but if you are a fan of Ben & Jerry's Brownie Batter Ice Cream, you know its brownies."
Not only is Greyston Bakery the supplier of the brownies you enjoy in Ben & Jerry's ice creams, they've also established a unique employment model called "Open Hiring." No background checks. No questions asked. People put their name on a list, and when a job is available, they get a call. Greyston Bakery's employment model provides a second chance for people with a criminal record, among other barriers to employment.
In his article, Abello explains the impact our Employee Opportunity Loan for the employees of Greyston Bakery. As Abigail Saunders, the Human Resource Director of Greyston Bakery, noted, "A lot of HR professionals don't understand financial problems at home might affect performance," Saunders says. "The (loan) process is very painless. For whatever they need, it's great. One of the employees took a loan out to help out a family member."
We are incredibly proud to partner with Greyston Bakery as they support the financial health and new beginnings of their employees. Through its Open Hiring model, Greyston Bakery demonstrates equity, inclusion, and people-first business. It's our privilege to stand with them as mission-driven, financial institution, and fellow B Corp.
Read the full story on Next City. Learn more about our Employee Opportunity Loan and the details of our Financial Empowerment Program, which includes free financial counseling with our partner, Neighborhood Trust Financial Partners. Or call Melanie Stern, Director of Consumer Lending, at 718-879-5198 to sign your company up today.