Interested in learning more about how we can help your business grow? Please fill out this form and our business lending team will get back to you.
Making Your Business Dream a Reality
You have big dreams for your business. We do too. You'll have direct access to our Small Business Lending team for a uniquely personal touch-that's how invested we are in and your business.
At Spring Bank we make it fast and easy to apply for a small business loan today.
Learn more about key features and requirements below:
Micro Loan Line of Credit:
If your business needs capital you may qualify for our micro line-of-credit.
Loans up to $10,000
Competitive interest rates
If you have been in business for over 1 year and generating adequate revenue, you may qualify.
Grow Loan:
Loans can be used to purchase inventory, supplied, furniture or fixtures as well as owner-occupied real estate. You can refinance existing high interest debt or use a loan for working capital.
Loans up to $250,000
SBA loans up to 25 years
Competitive interest rate
Small Business Loan:
Established businesses looking to build and expand.
Loan amounts between $250,000 and $3.2M
For business expansion and purchase of real estate
SBA loans up to 25 years
Nonprofit Loans:
Build security for your organization with our flexible loan options.
The Micro Line-of-Credit up to $10,000
The Impact Loan up to $250,000
Commercial Real Estate Loans:
Our team will work with you through every step of the process, ensuring you secure the funds you need when you need them.
Loan amounts between $100,000 and $3.4M
For Commercial, mixed use and multifamily
Owner occupied and investment properties
We don't take it lightly that you trust us with your money. In fact, the best part about working here is getting to know our customers and their families. You'll soon find out that you are far from a number here. On the contrary, you become part of the Spring Bank Family. We can't wait to get to know you.
Ready to grow with us? Come in and talk to one of our account managers about how we bring ethical banking to our accounts. Use the form below to schedule an appointment: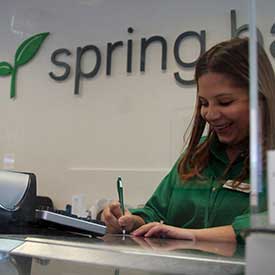 Have any questions? Stop by a branch or call us at (718) 879-5000.