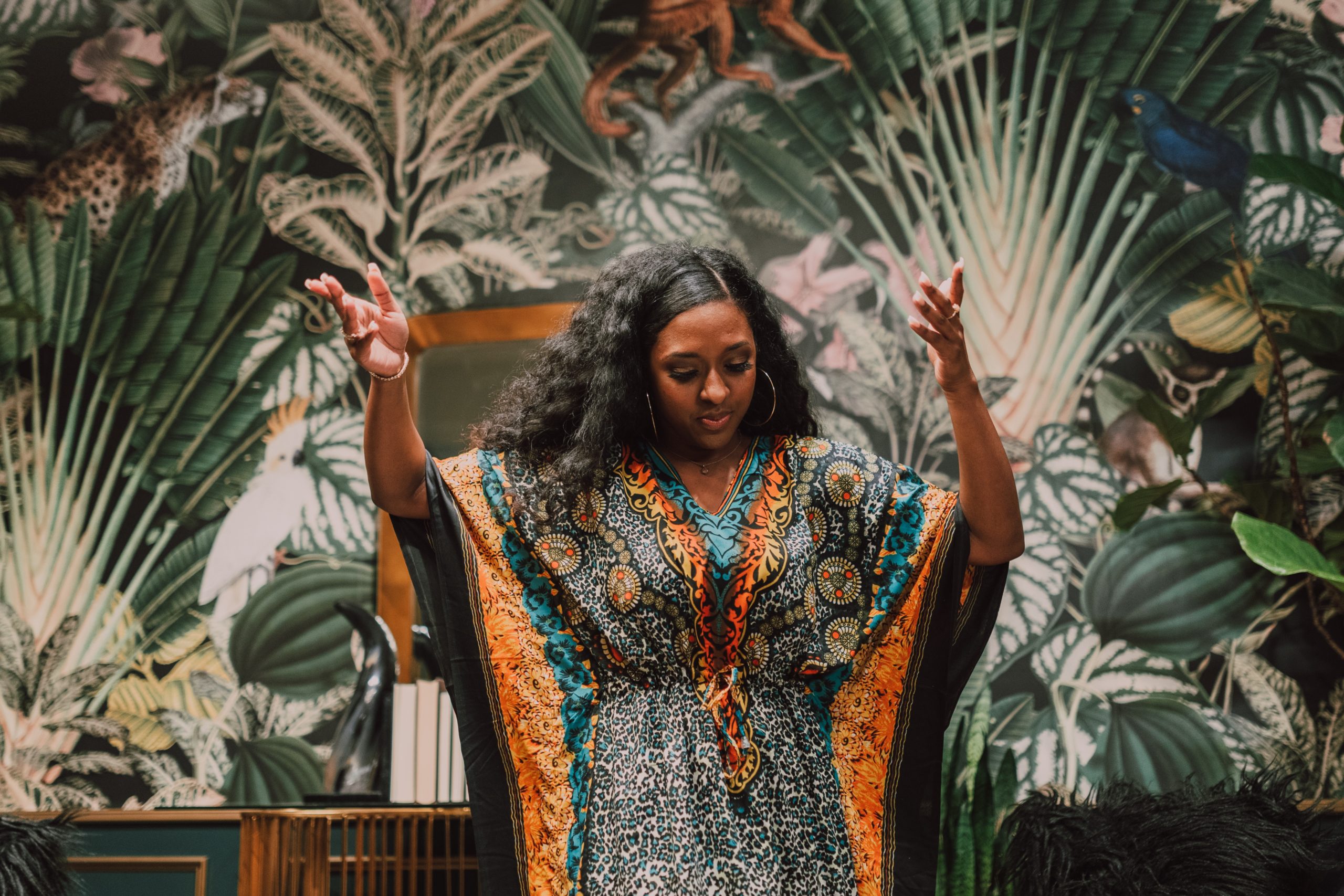 A 2020 Letter of Reflection & Gratitude
When we first headquartered in the Bronx, our mission was clear: to create a world where all people have equal access and opportunity to build prosperous futures. Fifteen years later, amidst a global pandemic and focus on racial justice, our mission and banking approach is more relevant than ever.
When the COVID-19 pandemic hit our city and unleashed dual health and economic crises, we saw our community's needs, and we got to work. All year, our team worked tirelessly to address our community's financial needs. Our efforts would not have been possible if it weren't for our incredible staff, our community, and small business partners, our B-Corp community, and most of all, you.
Thank you for being a part of our community.
2020 Reflections
To say that 2020 has been a tough year is an understatement. We know many of you have faced challenges you never expected. Us too. But thankfully, we have one another. This year has shown us why our work—and that of community banks and CDFI's are so important for low-income communities, small businesses, and nonprofit organizations that are too often overlooked by financial institutions. We prioritize our neighbors.
After the CARES Act passed in April of this year, our lending team got to work to assist organizations with their applications for a Payment Protection Program (PPP) loan.
We take great pride in having secured 360 PPP loans–valued at $86.8 million–for small businesses and nonprofits in the New York City area. With these funds, organizations retained over thousands of jobs. In total, we secured PPP loans for 53 nonprofits valued at $35 million, funding that they otherwise may not have received if they had looked to a larger bank.
For example, we secured financial relief for Ultranauts, a company that mainly employs autistic workers for jobs in the technology sector. We supported The Forward, one of New York's oldest Jewish media publications, and many others. Our lending team worked hard to make sure that value-aligned small businesses and community-based organizations could not only stay afloat but continue to support the needs of their communities, too.
In addition to our PPP lending program, we partnered with Eileen Fisher Inc., a fellow B Corp, to help them provide relief for their furloughed employees at the height of the lockdown. We customized our Employee Opportunity Loan program to meet their specific needs, which allowed them to act quickly to stay present.
In these uncertain times, we remain committed to New York City's financial inclusion—and your financial health. We are humbled by the outpouring of support and gratitude from our community, and we draw so much inspiration from your ingenuity, hard work, and resilience. In this season of reflection and generosity, we want to extend one more heartfelt thank you. Together, we will continue to make New York City the best city in the world.
Check out the article about Ultranauts in The New York Times. Read about our work with organizations like Callen Lorde Community Center, Grand Street Settlement, and The Forward. Read more about our PPP lending program.
Thank you for your partnership and business. We wish you a very happy and healthy 2021!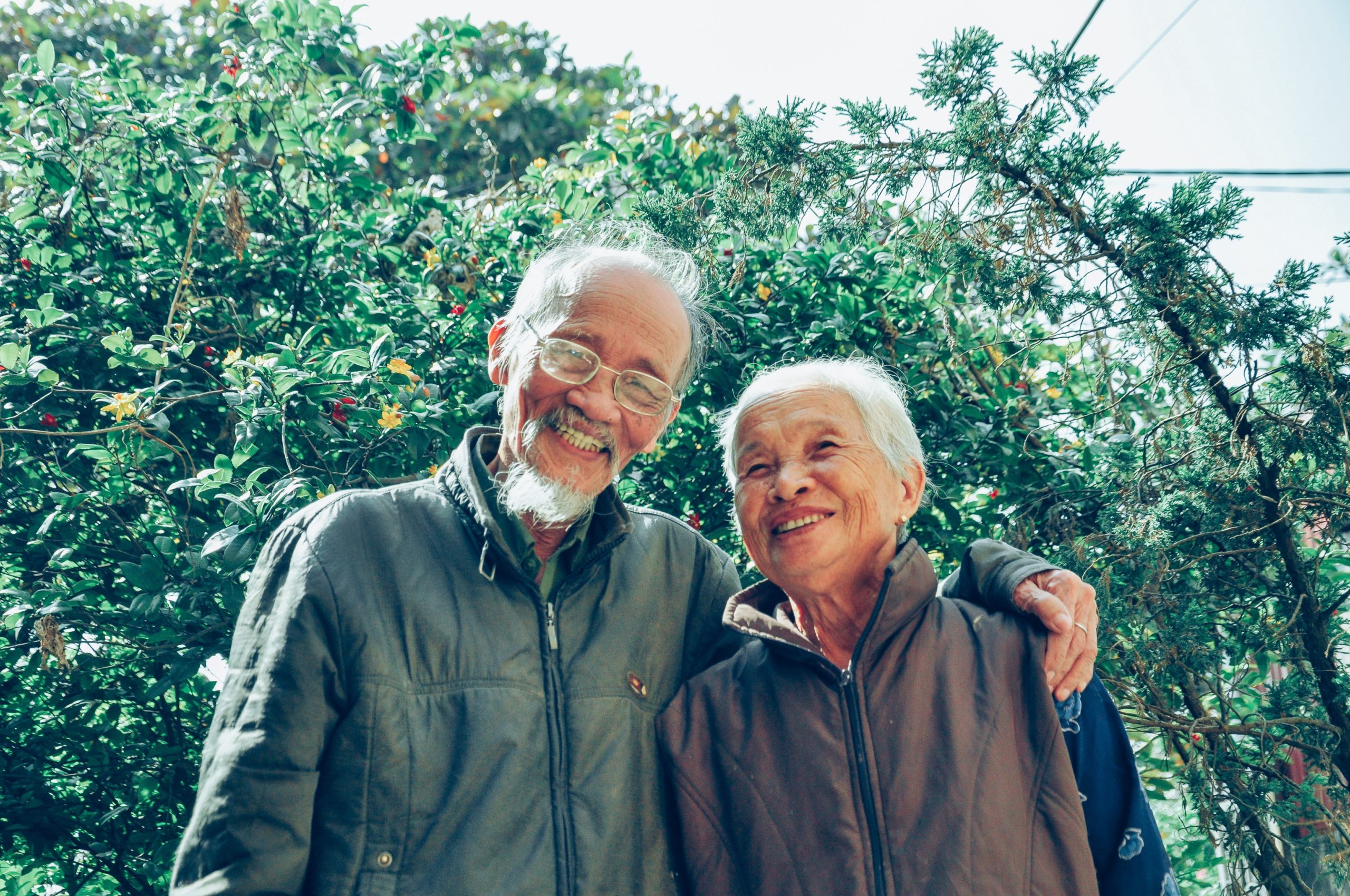 No one is immune from a financial emergency. COVID-19 has shown us this. But according to a Bankrate survey, just 40 percent of Americans can cover an unexpected $1,000 expense.  One of the key pillars of financial stability is counting on rainy day savings for unforeseen expenses like car repair, appliance replacement, medical procedures, and unprecedented moments like a global pandemic. If you've never started saving before, now is the time.  Every little bit can make a big difference.
When you open a personal saving account with us, we will help you organize your finances and make it easier to plan for the future. Our personal savings account offers competitive interest rates and zero maintenance-free options that can help you plan for your future and prepare you for any surprise. Like all our accounts, our personal savings account is FDIC insured. If there is an economic downturn, your money is insured by the federal government, regardless of what happens. Your money is safe with us.
Our team is committed to helping you develop healthier financial habits and will give you hands-on advice and support. You can open an account online or in-person. Our online banking service lets you social distance by giving you the ability to manage your money online with your mobile device or computer. Without exception, your health, financial or otherwise, is our number one priority. Did you know that when you bank with us, you have access to free financial counseling with our partners at Ariva? As one of New York City's Financial Empowerment Centers, Ariva's financial counselors can meet with you in-person at our Bronx branch or virtually and help you create a realistic financial plan for 2021.
Rest assured that your savings are safe and secure with our personal savings account. We have one of the best savings accounts online. Whether it's in-person, online, or over the phone, it's our pleasure to help you start planning for your future. Open a personal savings account today, call us at (718) 879-5000 to set up a free financial counseling appointment and to learn about our other affordable banking products. Read 5 Tips for Wise Spending at the Holidays on our blog.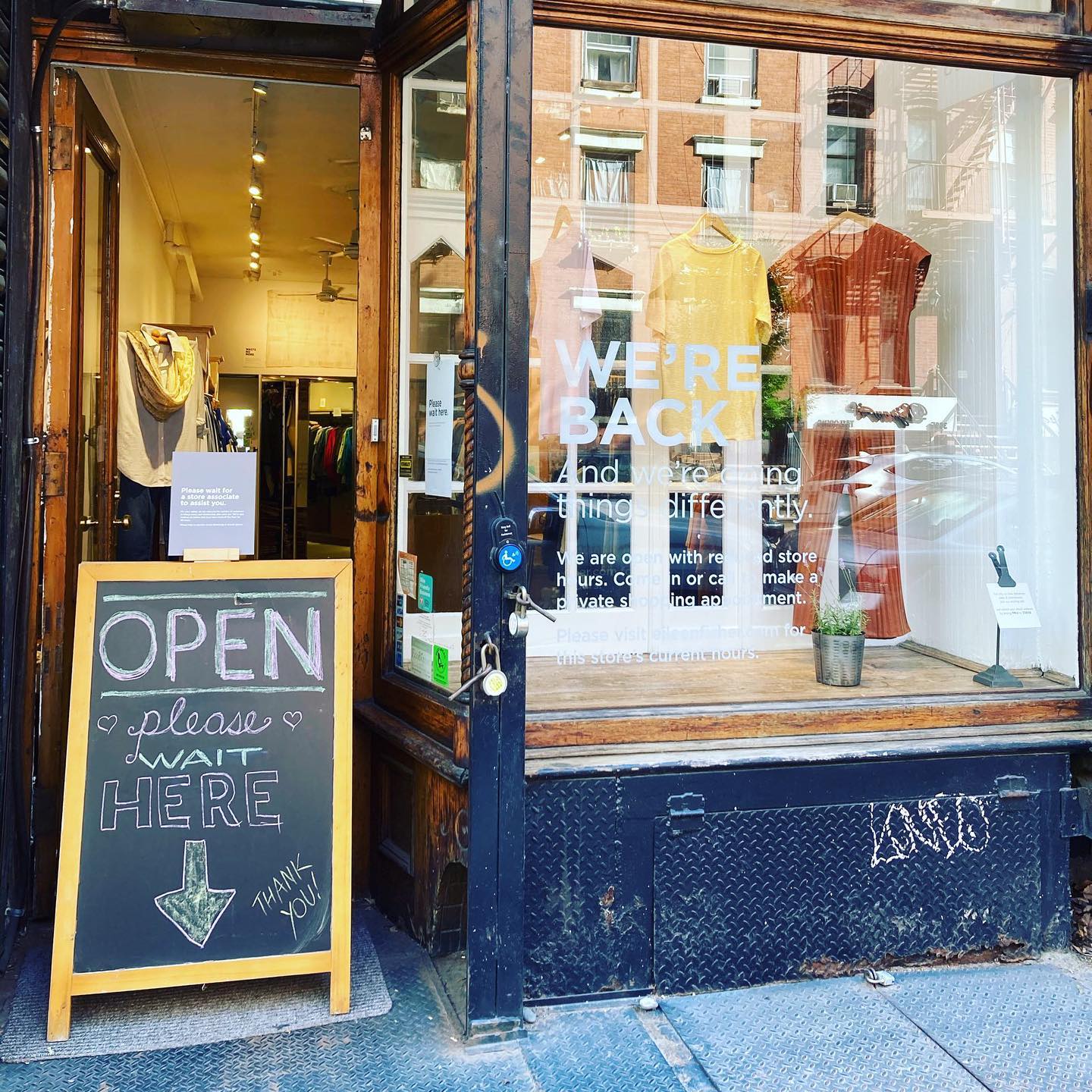 At Spring Bank–the first B Corp Bank in New York State–we provide products and services for businesses that help them grow while supporting their employees and communities.
As the COVID-19 pandemic continues to upend lives and livelihoods, our commitment to financial and community empowerment is stronger than ever. Keeping this in mind, New York City Businesses and Nonprofits can make this difficult time a little bit easier for employees through our Employee Opportunity Loan Program.
In June, we partnered with fellow New York B Corp,  Eileen Fisher Inc., and the Eileen Fisher Foundation, to customize our EOL program and, with the support of the foundation, to offer a financial helping hand to their employees who were furloughed at the start of the shut-down.
Our Employee Opportunity Loan Program provides access to capital and free financial counseling to help employers better support their employees in this unprecedented moment. Participating employers facilitate access to a small-dollar loan to bridge immediate gaps in cashflow while assisting them in building personal savings and credit for the future.
Employees can get small loans with no minimum credit score requirements and built-in saving and credit-building features. But it's not just about helping individuals apply for a personal loan; we want to give them the tools for durable financial health.
Employees also have access to free financial counseling with our partners at Neighborhood Trust. Together with their financial counselors, employees can develop a plan to decrease their debt, increase their savings, improve their credit score, and work towards long-term goals.
To learn more about how you can support the financial health of your employees, read about our Employee Opportunity Loan Program. You can also read how we created the program with the Eileen Fisher Foundation on our blog. And stay tuned for our upcoming stories on some of the hundreds of small businesses and nonprofits we supported with PPP loans.
This is an Advertisement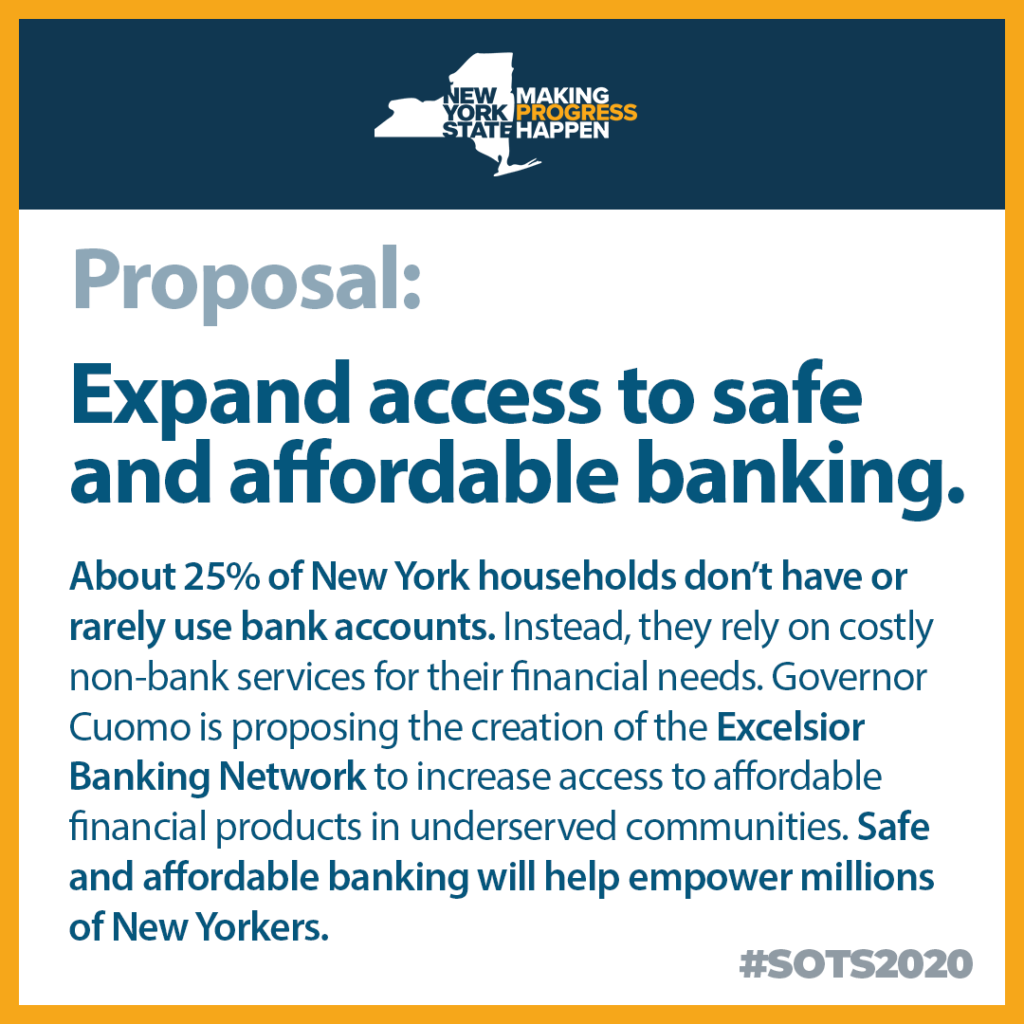 Governor Cuomo Announces a 2020 Statewide Proposal for CDFIs
At the beginning of this new decade, we shared our 2020 vision: To continue to explore ways we can invest our dollars responsibly, so more people have access to the financial tools they need to build wealth. Thankfully, we aren't standing alone in this work. We proudly share our mission of financial inclusion with the 83 other US Treasury Certified Community Development Financial Institution Funds (CDFl's)– mission-driven financial institutions, banks, credit unions, and nonprofits–in New York State. And, Governor Cuomo does too.
Governor Cuomo recently announced the "21st Proposal of his 2020 State of the State: Expanding Access to Safe and A/fordable Financial Services." In partnership with CDFls, his proposal includes the following strategies:
$25 million in new funding over five years to increase access to affordable financial products in underserved communities across New YorkState through, New York's Community Development Financial Institutions Fund (CDFI)
The launch of a statewide "Office of Financial Inclusion and Empowerment" as a single-stop provider of financial services and providers across housing, student loan, debt, and general financial literacy
The expansion of access to safe and affordable banking services, credit and financial education, particularly for women and communities of color, typically excluded from the current financial systems.
To execute these strategies, Governor Cuomo proposes to work with CDFls, who, like us, are often the sole providers of banking and other financial products and services in low-income communities. Under the Governor's proposal, participating CDFls will leverage this funding, providing upwards of $300 million in targeted investment in underserved communities in New York for consumers, affordable housing, and small businesses.
Governor Cuomo's vision includes expanding access to low-cost bank accounts to low-income New Yorkers who often find that the only accessible banking service in their communities are high-cost check cashers who take huge finance fees out of people's paychecks. According to the FDIC, approximately 25 percent of New York households do not have bank accounts or seldom use one and rely on costly non-bank services for their financial activities. Expanding financial literacy education and access to microcredit for small businesses is also part of the proposal.
In a press release announcing his strategies, Governor Cuomo acknowledged the prevalence of exploitation by predatory lenders in low-income communities in New York:
"We've made significant strides expanding access to banking services for low income New Yorkers, but too many people still live in banking deserts," Governor Cuomo said. "As a result, these New Yorkers often turn to costly check-cashing services or take out illegal predatory payday loans because they can't access affordable small business loans at community banks. These sweeping proposals will provide New Yorkers with the services they need to build their credit, improve financial literacy, and take charge of their economic futures – helping build a fairer and stronger New York."
Linda MacFarlane, the Executive Director of CDFI, Community Loan Fund of the Capital Region and chair of the New York State CDFI Coalition of which we are a proud member, has been discussing the proposal with the Governor's office, the New York State Department of Financial Services and Empire State Development Corp. and has "high hopes" for the Governor's new proposal.
We do too. We are proud to serve New York City as one of 83 CDFIs in the state who helped shape the New York State CDFI Fund to expand access to safe and affordable products. Creating access to credit and wealth-building financial tools for communities typically excluded is why we headquartered in the Bronx—and why we continue to explore ways in which to serve New York City as a mission-driven, ethical bank.
We invite you to join us in the mission. 
Register for this year's NY State CDFI Conference in Albany, March 30-31st. You will learn more about how you can join CDFIs in making a difference every day in New York, State. Invest your dollars locally with us. Open a Green Checking account with us today. When you bank in your community, you support the credit and wealth-building of your neighbors and local businesses.
Read our 2020 Vision and follow us on LinkedIn, where we share stories about what it means to be an ethical bank, and our vision for a shared and durable prosperity for all.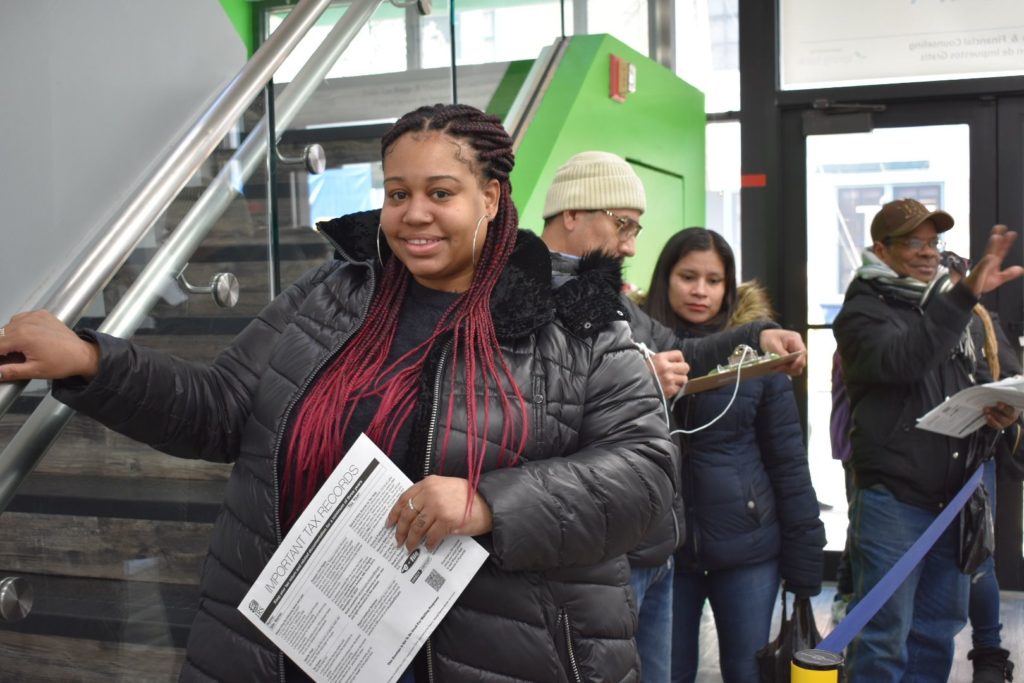 When we opened our doors in the Bronx over twelve years ago, we did it with Ariva, a community-based, nonprofit organization. We have been on this journey together. Not only do we share headquarters at our Bronx offices on 167th street, but we also share a mission to strengthen financial stability and expand the financial inclusion of  New Yorkers.
Ariva provides free tax preparation and free financial counseling to low-income residents of New York City. In December, Ariva received one of eight designations from the Department of Consumer Affair's Office of Financial Empowerment as a New York City Financial Empowerment Center—one of two in the Bronx—and we are, of course, excited to share this news.
"As a New York City Financial Empowerment Center, we can extend our reach and better serve our clients. It also adds a new dimension to our work and the impact we make," says Irene Baldwin, Executive Director of Ariva.
Since 2003, Ariva has prepared free tax returns for over 100,000 clients, returning more than $150 million in total refunds. Returns vary in dollar amount, and many of Ariva's clients return year after year. They often count on their tax return to support their annual household income. Eighty-eight percent of Ariva's clients earn less than $30,000 annually; Ariva knows that even a small refund can prevent one of their clients from using predatory financial services and can help a family start saving.
\Witnessing families gain confidence in their financial knowledge, make more informed financial decisions, and increase their financial security are a few of the reasons Ariva's hardworking staff and committed volunteers know their work matters. We are proud to host one of their year-round tax preparation sites and one of their financial counselors in our branch. For Irene, the host matters:
"Spring Bank is the perfect host. We share values and mission. As one of the only banks in the neighborhood, people come to the Bronx branch for their financial needs. We provide complimentary services and offerings and refer clients to each other".
Ariva's services are available to all. Their winter hours for their free tax preparation program are (69 E. 167th Street)
Mondays, Tuesdays, and Thursdays: 4 to 7:30 pm
Wednesdays: 12 to 7 pm
Saturdays: 10 am to 4 pm
The hours for free one-on-one counseling are: (until April 30th)
Mondays, Tuesdays, Wednesdays & Thursdays: 11 am to 7:00 pm
Fridays: 2 to 5 pm
Saturdays: 9 am to 5 pm
Clients are invited to walk-in, and no appointments are needed. Read this checklist to make sure you bring the proper paperwork before arriving.  For more information about Ariva's mission, services and locations across New York City, visit www.ariva.org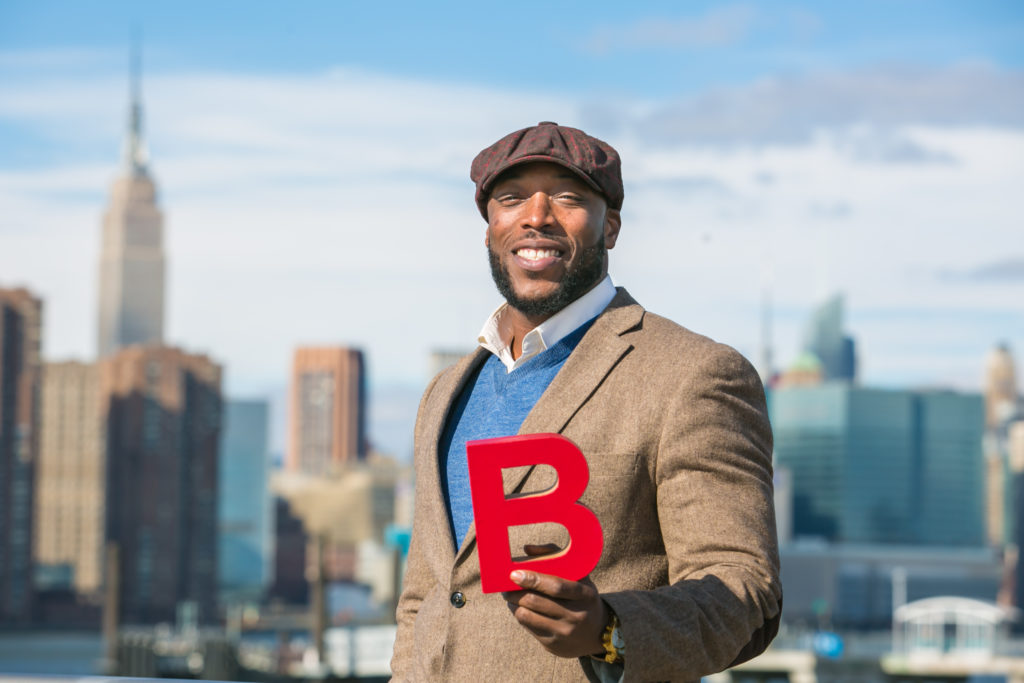 The Spring Bank Green Checking Account
Climate Week 2019, New York City. Thousands of delegates, environmentalists, and conscious consumers engaged in hundreds of panels, events, Sustainable Development Goal (SDG) action-oriented gatherings. Our friends at the Center for Social Innovation hosted the closing Climate Week event, "The Marketplace of the Future," where fellow B Corp Carbon Credit Capital—the NYC-based company that helped us become carbon neutral—showcased their global projects, including the one we support in the Amazon.
Climate Week NYC presents an annual, collective opportunity to stand for the future of our planet. And we invite you to integrate this momentum into your daily life. How? By moving your money to an ethical bank. Why? Because traditional financial institutions invest in oil, mono agriculture, logging, and other industries that contribute to our current climate crisis. You may be unknowingly supporting their investsments if you don't know exactly where they put their—aka your–money. We encourage you to find out. Set-up a meeting with the lending team or CRA officer at your bank. Ask them to provide a list of their investments in the last five years. If they are working to shift their portfolio, like us, this is a good sign.
One of the steps we've taken in our journey is to offer a Green Checking account. It's our completely paperless personal checking account with zero maintenance fee options and no overdraft fees. All you need is an email address, and your monthly statements are sent to you electronically. And, when you access your Green Checking account through the Spring Bank mobile app, you have 24/7 access to your money without printing or recycling statements ever again.
You can trust that when you bank with us, we invest your dollars back into the community. As a mission-driven, ethical bank, and the first B Corp bank in New York City, we work hard to support the community through small-dollar consumer loans and small business microloans. It's our part in building an inclusive economy and a healthier planet.
Open a Green Checking account today. Learn about our journey to carbon neutral and what it means to be an ethical bank. Read 3 Ways to Know If You Deposit Your Money in an Ethical Bank. Check out our recent 2019 Best For The World Award from B Lab.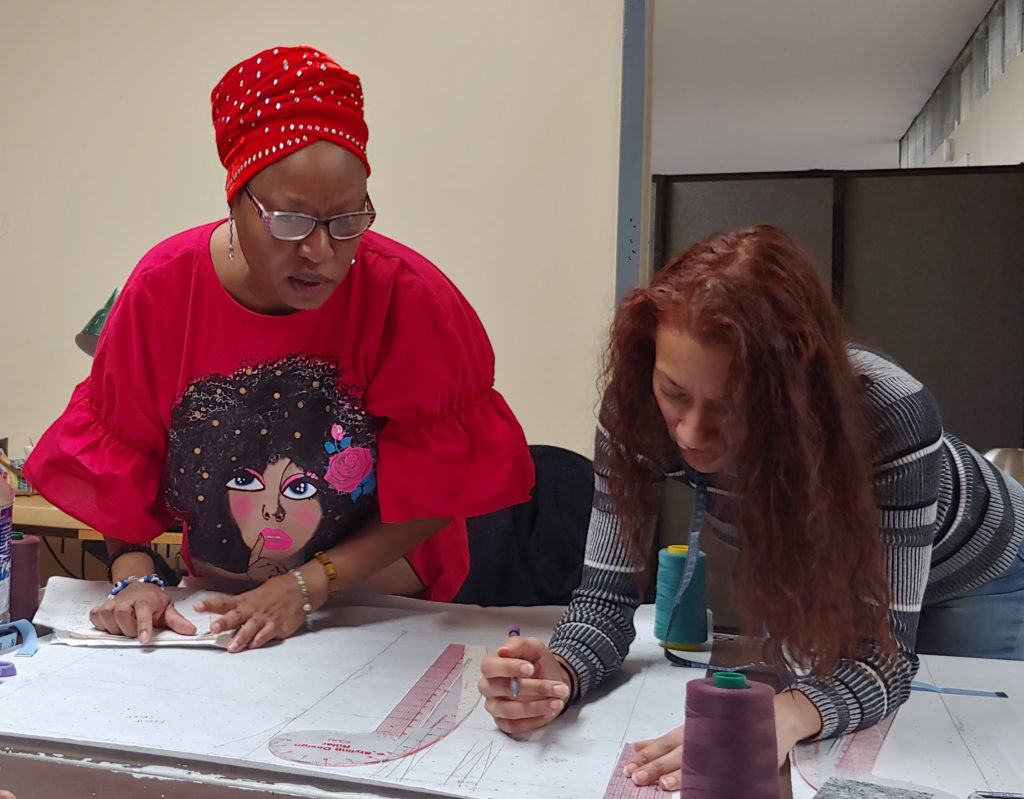 Photo Credit: Custom Collaborative
She's a force to be reckoned with. Former lawyer. Graduate of Georgetown. And the Founder and Executive Director of Custom Collaborative. At age 6, Ngozi Okaro decided to become a lawyer because she understood lawyers to be problem-solvers. A problem she later faced? As a tall woman, the challenge of finding fashionable, flattering clothing. In 2011, as her honeymoon approached, she decided to find a tailor who could design a few custom pieces. Enter Miriama, a Harlem-based seamstress. Ngozi's friendship with Miriama gave her insight into the challenges faced by women in the fashion industry—designers and dressmakers- particularly women from low-income and immigrant communities. They struggled to build strategic networks, sell their clothing lines and earn a living wage. Ngozi saw the opportunity to use her problem-solving skills to launch an organization which empowers women and promotes inclusion in New York City.
Since 2014, Custom Collaborative has supported dozens of female fashion designers and dressmakers, most of them just beginning a career in fashion. A New York City-based nonprofit, Custom Collaborative is an entrepreneurship and workforce development organization that trains and supports women from low-income and immigrant communities in launching fashion careers and businesses. By learning standard techniques and ethical business practices, participants professionalize their sewing and design skills, overcome barriers to employment, and ultimately, over time will change the economics of the industry.
Women engage with Custom Collaborative across three programs: a training institute a business incubator, and launching this May, a profit-sharing, worker-owned cooperative. Participants represent 15 different nations; 80 percent of Custom Collaborative participants live below the federal poverty line, and 85 percent of their students are mothers. The vision for a worker-owned cooperative developed as the team at Custom Collaborative saw the need for longer-term support for their graduates.
"We want to pay a fair wage from the beginning. As we pool our resources, we have bigger visibility, and collectively, we can earn more income." Says Ngozi.
Custom Collaborative partnered with Legal Aid in Harlem and the Economic Development Clinic as part of the CUNY Law School to learn how to create a successful worker-owned cooperative. Every worker-owner has an equal vote and receives dividends, from the floor sweeper to the lead designer.
The cooperative is a one-stop-shop for fashion design, manufacturing, and sales, produced and managed by graduates of Custom Collaborative's training and incubator programs. They accept sample and white label, contract manufacturing orders of 1 – 200 pieces and sell made-to-measure clothes to individual clients. And did we mention that at least 90 percent of Custom Collaborative designs are made from repurposed and upcycled textiles? Yes. Triple bottom line impact.
Custom Collaborative's worker-owned cooperative goes live in May. Follow the incredible impact of Custom Collaborative on social. Buy a one-of-a-kind handbag online. And if you feel called to deeper engagement, they are also looking for advisors to support strategy and growth. Get in contact at info@customcollaborative.org
We say this all the time and this time is no exception: we have the best clients. When Ngozi came to our branch in Harlem to open an account we knew we could support her by offering zero maintenance fees on her accounts. And if she ever needs it, our nonprofit lending offering is "tailored", with flexible terms to suit the needs of nonprofits when they have gaps in funding. Learn more about the benefits we offer to nonprofits and open your checking account online or small business checking account online today.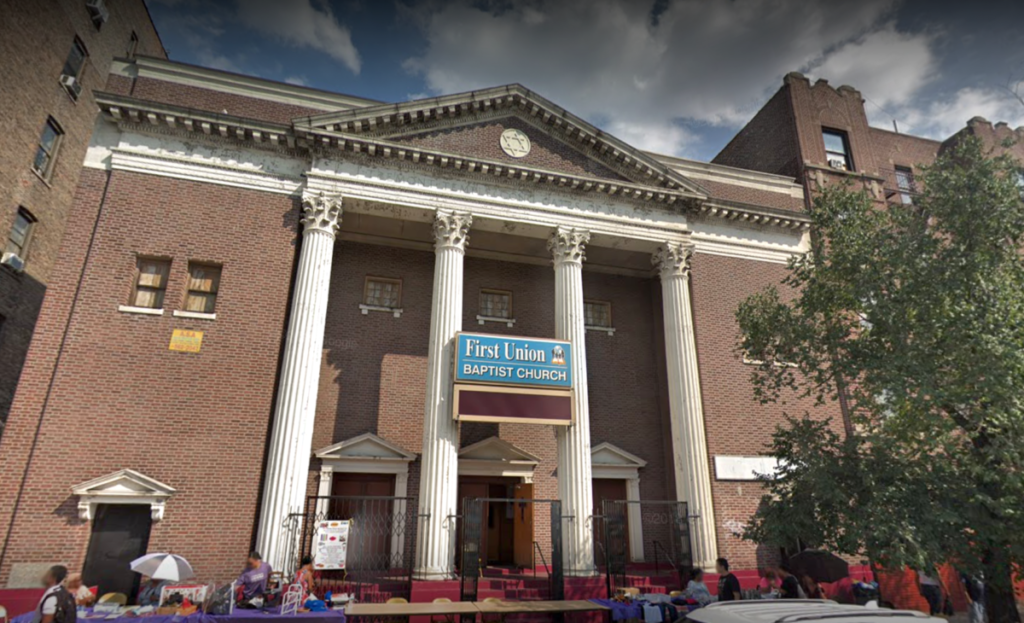 For 45 years, the African American congregation of First Union Baptist Church has worshipped and served together in a historic building on Grand Concourse in the Bronx. Just a few months ago, a proposed redesign of the space including 45 new units of affordable housing and new retail space helped the church continue their legacy. We are incredibly proud to have supported this community-led effort using a creative approach to commercial lending.
Over the previous decade, the church faced significant financial troubles: declaring bankruptcy in 2012 and facing foreclosure. The Legal Aid Society and local developer Thorobird launched an effort to keep the church alive.  Turned away by other banks, they approached our commercial lending team. After meeting with Thorobird, Akbar Rizvi, our Chief Lending Officer, knew that we could help meet their financing needs.  
"This was a win-win because it allowed First Union Baptist Church to come out of bankruptcy and foreclosure and stay at its location in a newly built facility by Thorobird. Additionally, Thorobird would be able to develop the property to its fullest potential and create affordable housing," units. explains Akbar.
The church property will be reconstructed to become an eight to ten story building with mixed-use commercial space and with the support of government funding includes 45 units of affordable housing.
"We listened and took the time to understand the big picture. This was not a cookie-cutter loan request, but at Spring Bank we pride ourselves on making hard deals work if the community benefits. We are a prudent lender, and we are also a community lender," says Akbar.
Quoted in an interview with Spectrum News NY1, Thomas Campbell, Managing Member of Thorobird Companies, says, "Here, affordable housing, which is also needed in this community is a vehicle for saving a church."
The restructuring allows the church to maintain its current location without a mortgage or rent payment, protecting their long-term sustainability. The plan is for redevelopment and construction of the church to start by the end of the year. Not only will the new facility provide worship space, but the church will continue to provide community benefits like meeting facilities, food pantries and soup kitchens and educational enhancement programs.
Jay Hack, a partner at the law firm of Gallet Dreyer & Berkey, LLP, the attorneys for Spring Bank on the loan transaction, explained, "Our firm represents a lot of banks, and I talked to many bank executive officers about this deal. Every one of them said they would not touch it. However, Spring Bank persevered. I laid out the legal issues that the church found itself embroiled in and the bankers set forth a strategy to get things done and the community will benefit by it."
As a mission-driven, B-Corp bank, we provide flexible and creative lending opportunities for small businesses, acquisition and refinance of commercial real estate, and non-profits in addition to providing an array of consumer loan products. We actively lend within New York City, Westchester, Nassau, and adjacent counties and our commercial loan products can be used for refinancing and acquisition of 1-4 family, multifamily, mixed-use, retail, light industrial, SRO, and owner-operated development. We are a Preferred Lending Partner of the SBA and can offer Small Business Lending products such as the SBA 7(a), Express, and 504 loans to help meet your business needs.
Read here for more information about our commercial lending portfolio or to learn about building a relationship with us, contact Akbar Rizvi, our Chief Lending Officer at 718-879-5000. 
A graduate of Grace Outreach Photo Credit: Grace Outreach
This is Grace Outreach.
"We are the first step in career development, and we work with women to help them determine their best path forward." — Danae McLeod, Executive Director, Grace Outreach.
They have one of the highest pass rates of the TASC new High School Equivalency Test (TASC) in the Bronx and they are known for their adaptable, nimble approach to the needs of the women they empower. Founded in 2004, Grace Outreach serves low-income women of all ages, primarily from the Bronx, who seek to enhance their academic skills, pursue higher education and find employment. In 15 years, they have helped more than 1300 women to earn their high school equivalency diplomas, pursue higher educational goals and develop fulfilling careers. Their commitment to the financial independence of women could not be more crucial for the overall economic growth of the Bronx, currently ranked at 62nd out of all 62 counties in New York State for the educational attainment levels of its residents.
Starting with their High School Equivalency Program, they help women prepare for the TASC exam.  Grace Outreach classes cover each part of the exam: math, social studies, science, reading, and writing. According to Danae, it's a challenging exam.
"We have the highest pass rate in the Bronx; 55 percent compared to the 40 percent borough rate," says Danae. "The exam is the first step for most of our students.
Grace Outreach meets women right where they are, fine-tuning their programming to meet the needs of their students. Since many of their students live in shelters and earn under $10,000 a year their primary focus is often shifting their immediate circumstances. Grace Outreach helps women to see beyond the pressing needs of today and to see themselves as capable of educational and professional success.
"Most of the women we teach become first-generation college students. When they start with us, many don't think they are college material, but we work with them to explore degrees and the jobs they lead to," says Danae.
Part of their career exploration includes specific training programs with local community organizations. Grace Outreach partners with dozens of training programs including Hot Bread Kitchen's bakers' training program; Per Scholas's technology skills training program; a customer service training with the Retail Action Project via LaGuardia Community College; and a paid internship program with Montefiore Hospital.
We are proud to partner with and support the incredible impact of Grace Outreach. Danae reached out to Ines Marino, our Director of Small Business Lending, about our nonprofit line of credit. "We had a cash flow gap between funding seasons and needed a back-up. There are always delays in payments with grantors. We are very grateful that Spring Bank supported us," says Danae.
Grace Outreach offers open enrollment for all programs. The next cohort for their TASC classes begins in May. To enroll today, call the Grace Outreach offices at (718)328-0580 or text GED123 to 25827. To learn how you can join Grace Outreach in supporting the financial independence of women in the Bronx, read here. And for more information about our nonprofit lending options as part of our Community Impact Program, contact Ines Marino directly at imarino@springbankny.com.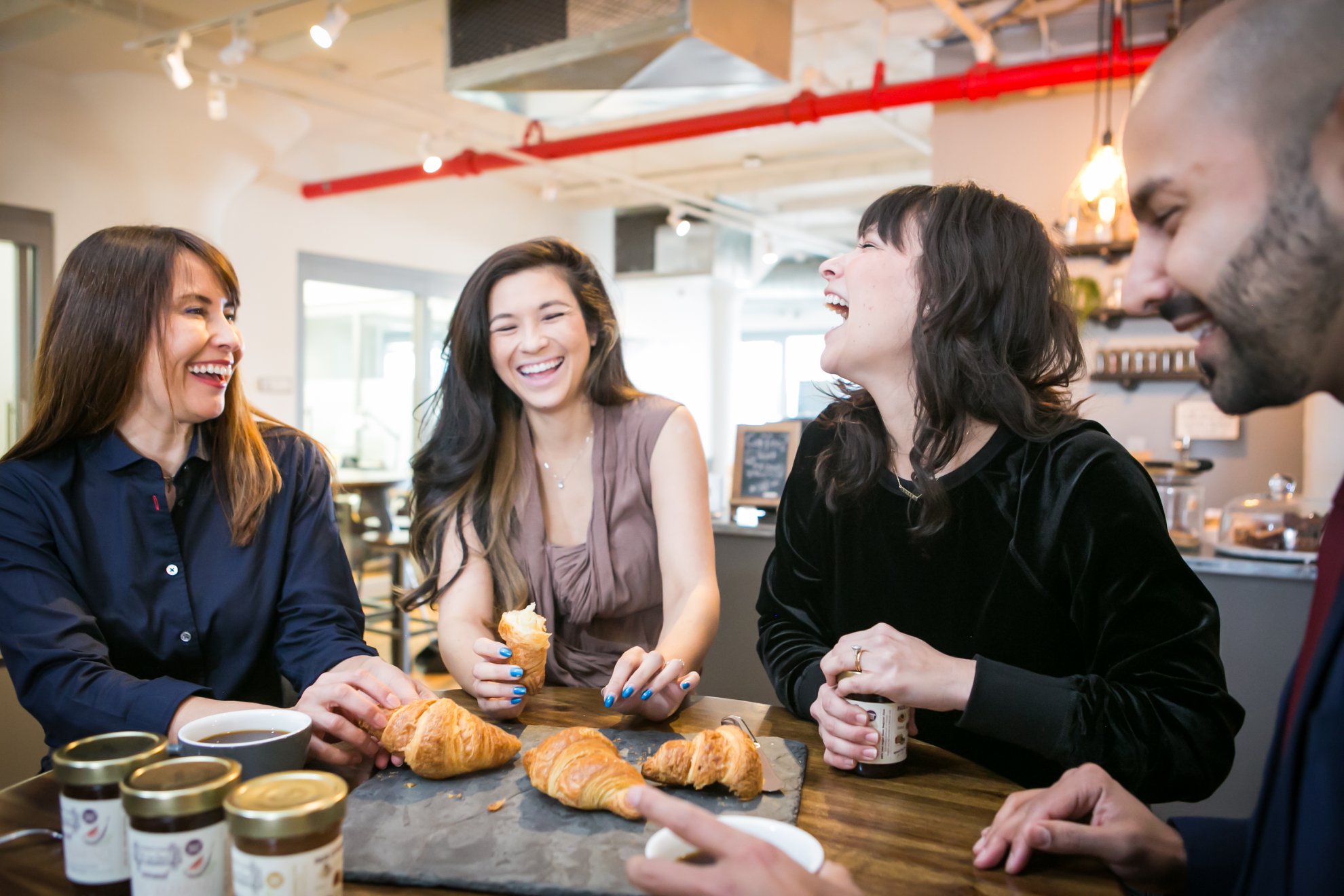 Ines Marino, our Director of Small Business Lending (left), with Jessica and Sabrina, Founders of The Jam Stand (middle), and Akbar Rizvi, our Chief Lending Officer (right). The Jam Stand partnered with us in our Small Business Grow Program. 
We are proud to have received an "Outstanding" Community Reinvestment Act Rating
For us, it's just us being us and doing what's right for our communities; investing our lending dollars locally—into the neighborhoods of the Bronx, Harlem and other parts of New York City that are often neglected by the banking industry. It's the reason we opened our doors in 2007.
That year our CEO, Demetris Giannoulias, and his founding team were determined to create financial access, the ability to build credit, save money and ultimately, prosperity for the families and small businesses of New York. Eleven years later, we know we've made a difference, and we are proud that our federal regulators acknowledge this too.
Just last week we received an "Outstanding" Community Reinvestment Act (CRA) rating from the Federal Deposit Insurance Corporation (FDIC). Enacted by Congress in 1977, the CRA started as an effort to ensure that banks provide responsible lending in areas where they headquarter. Previously, many banks opened branches in low-income neighborhoods but lent only to more affluent neighborhoods. The goal of the CRA is to minimize redlining and other types of systemic financial exclusion, requiring banks to make loans where they have branches. For us, as a for-profit, for-mission, Community Development Financial Institution (CDFI) and B Corp,  financial inclusion is at our core.
"We make credit available to people in low and moderate neighborhoods who may have no other affordable options," says Melanie Stern, our Community Reinvestment Act Officer, and Director, Consumer Lending.
Our 2018 CRA rating report includes these highlights:
The distribution of borrowers reflects excellent penetration among borrowers of different incomes
The institution's performance in making qualified investments and providing branches and other services and delivery systems enhances credit availability.
What does this mean? In two years alone we made 795 small business, multi-family and consumer loans across New York City amounting to  $50,555,000. Our Small Business Micro Line of Credit and Grow Loans range from $10,000 and $250,000 and our consumer loans, the Employee Opportunity, Credit Builder and Start Loans range between $1,000 and $2,500. We've seen the power of microlending to open doors and create new beginnings for small business owners and families time and time again.
Eric Pallas, our President, says "As a CDFI and B Corp Bank, lending to businesses and consumers in underserved communities is central to our mission. We are pleased that the FDIC has recognized us with an "Outstanding" CRA rating and that we have hit the mark with an excellent record of meeting the credit and financial services needs of low- and moderate-income communities."
We'd love for you to see what financial inclusion looks like in-action. Join us on March 1st for our TGIF-Thank Goodness It's Friday Financial Resource Fair at our Bronx headquarters from 1 pm to 4 pm. Learn more about our affordable banking products or reach out to Melanie Stern, Director of Consumer Lending and Community Reinvestment Act Officer at 718-879-5198 or mstern@springbankny.com