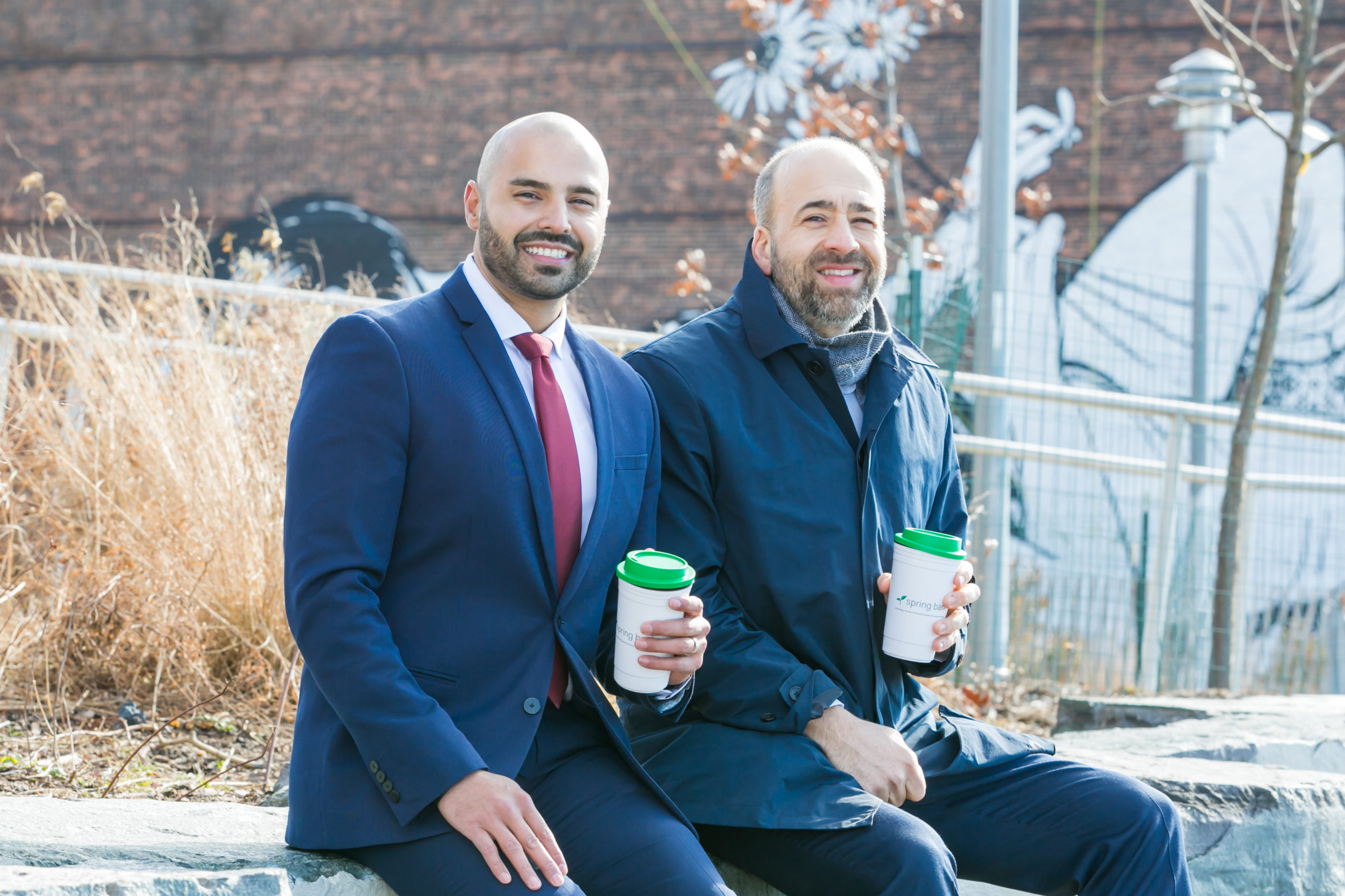 A few weeks into 2021, and as President Joe Biden reminded us in his inaugural speech, we have hard work ahead of us. With businesses shuttered, hospitals overwhelmed, and streets empty, and as we confront this winter wave of COVID-19, hope can feel distant. And yet, there is much to look forward to and much to fight for.
As a Community Development Financial Institution (CDFI) dedicated to financial inclusion, we are ready to meet this moment. Together with the 80 + members of the NYS CDFI Coalition, we are working to ensure that people across New York state receive the financial relief and tools to navigate this difficult time. But beyond our work on the frontlines of the pandemic, there are many reasons to bank with CDFI like us. Here are three of those reasons:
Access to Flexible Lending Terms & Affordable Rates
At large-financial institutions, customers must provide high credit scores and a large minimum balance to qualify for services, effectively barring people with lower incomes, many of whom are people of color. At a CDFI, someone lacking a healthy credit score or thousands of dollars in savings can get access to the financial system without having to pay exorbitant fees. CDFIs offer financially healthy and credit-building alternatives to the people who need them most by providing flexibility and customized banking products according to our local communities' needs.
Direct Community Investment & Impact
Unlike mainstream financial institutions that prioritize shareholders, CDFIs prioritize the economic needs of local neighborhoods. As mission-driven organizations (both for-profit and nonprofit), CDFIs leverage money to support community development like small business lending, small-dollar consumer lending, and affordable housing lending for people and organizations excluded by big banks because of factors like systemic racism and redlining. We have a triple-bottom-line, meaning that we measure success by the health of our community and environment. When you bank with us, you know your dollars are invested back into New York City.
Relationships Matter Most
Large financial institutions often overlook small businesses, startups, and nonprofits because they can't offer products with a high-risk factor. CDFIs provide hands-on services that allow them to evaluate small businesses and nonprofits as a whole, starting with a relationship with the entrepreneurs and community leaders. Our holistic approach enables us to create customized products that address the specific needs of vital institutions in excluded communities and, in doing so, support their sustainability.
We are proud to be a CDFI and the first to headquarter in the Bronx. With or without a pandemic, we will continue to fight the racial and economic disparities it has magnified. By opening a personal savings account or business checking account with us, you help support our mission. To learn more about what we do, read our 2020 Reflection. You can also check our blogs about our involvement in the Bank for Good movement and our community-first culture. Apply for a personal loan today!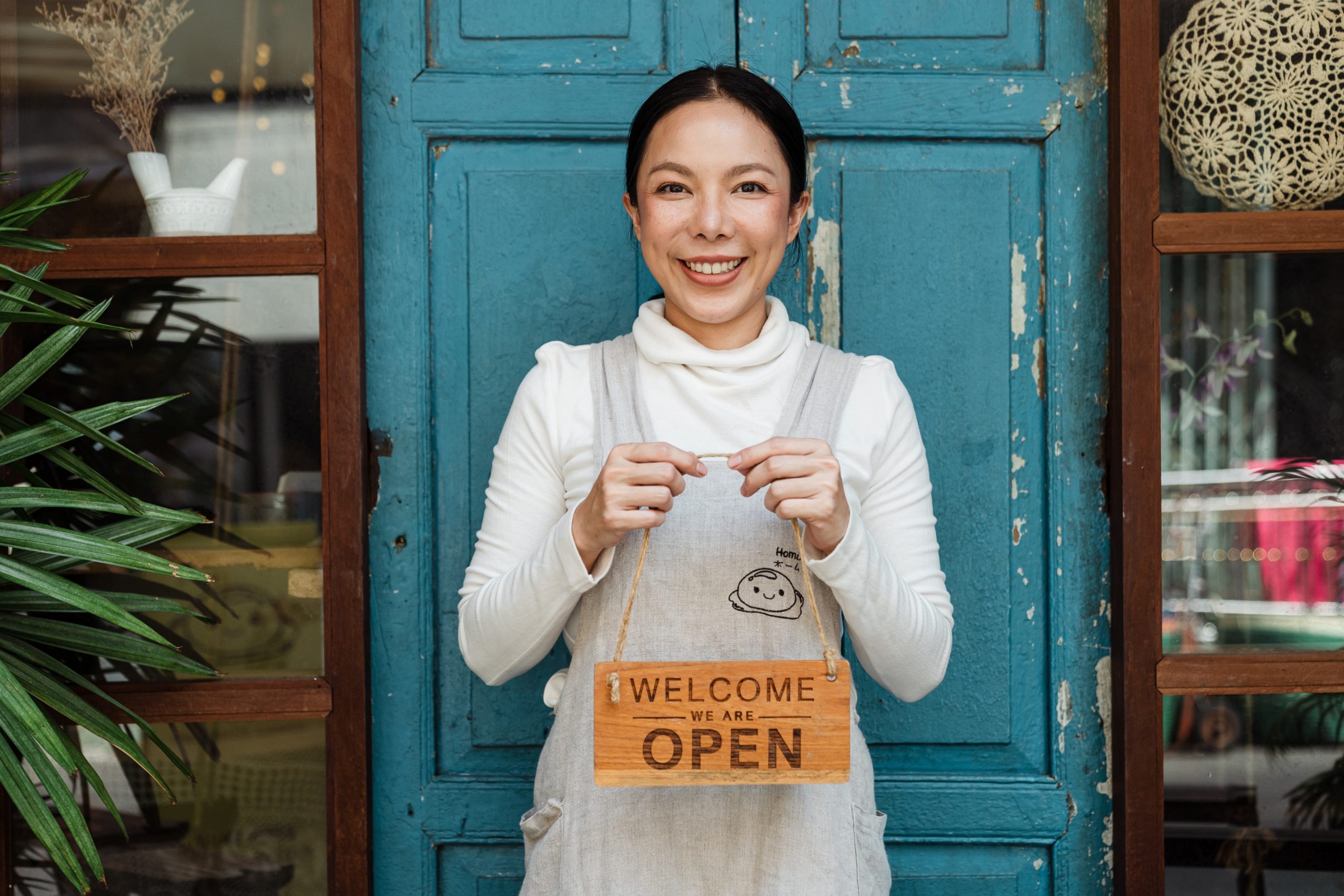 For the last fourteen years, we have worked tirelessly to provide affordable financial products that enhance economic opportunity for all people in New York City. Soon after we became the first bank headquartered in The Bronx, we obtained federal certification as a Community Development Financial Institution or CDFI. This designation means that over 60 percent of CDFI lending services target people with lower incomes, including communities like ours in the Bronx.
In receiving this certification, we joined a network of over a thousand banks, credit unions, and nonprofits community lenders dedicated to assisting communities typically excluded—because of systemic racism and other reasons—to join the economic mainstream. Since the CDFI Fund and Department of Treasury awarded us the designation in 2012, we have joined forces with 80+ CDFIs in New York state to ensure that historically excluded residents, small businesses, and nonprofits receive the financial services they need. We were even one of the founding board members when the NYS CDFI Coalition became a nonprofit organization.
More than ever, the economic downturn caused by the COVID-19 pandemic has brought to light the importance of the CDFI movement. When the Small Business Administration first implemented the Paycheck Protection Program in Spring 2020, the overwhelming amount of PPP Loans went to white-owned businesses and large corporations.
To assure more vulnerable minority-owned small businesses receive PPP lending, on May 28, 2020, the Treasury Department and SBA set aside $10B of emergency lending exclusively for CDFIs to distribute. The program was a resounding success. A subset of the CDFI network (303 CDFIs) made 106,113 PPP loans valued at $7.4B in less than three months. We are honored to have contributed to this effort. In 2020, our lending team secured PPP loans–valued at $86.8M–for small businesses and nonprofits in the New York City area. And we are excited to do it again. The new COVID-19 relief package includes $284B for additional lending to eligible businesses. It seems Congress learned its lesson 😊
To learn more about the impacts of our PPP loan program and CDFIs, check out our work with organizations like Ultranauts, Callen Lorde Community Center, Grant Street Settlement, and The Forward. Read a summary of our response to the COVID-19 pandemic here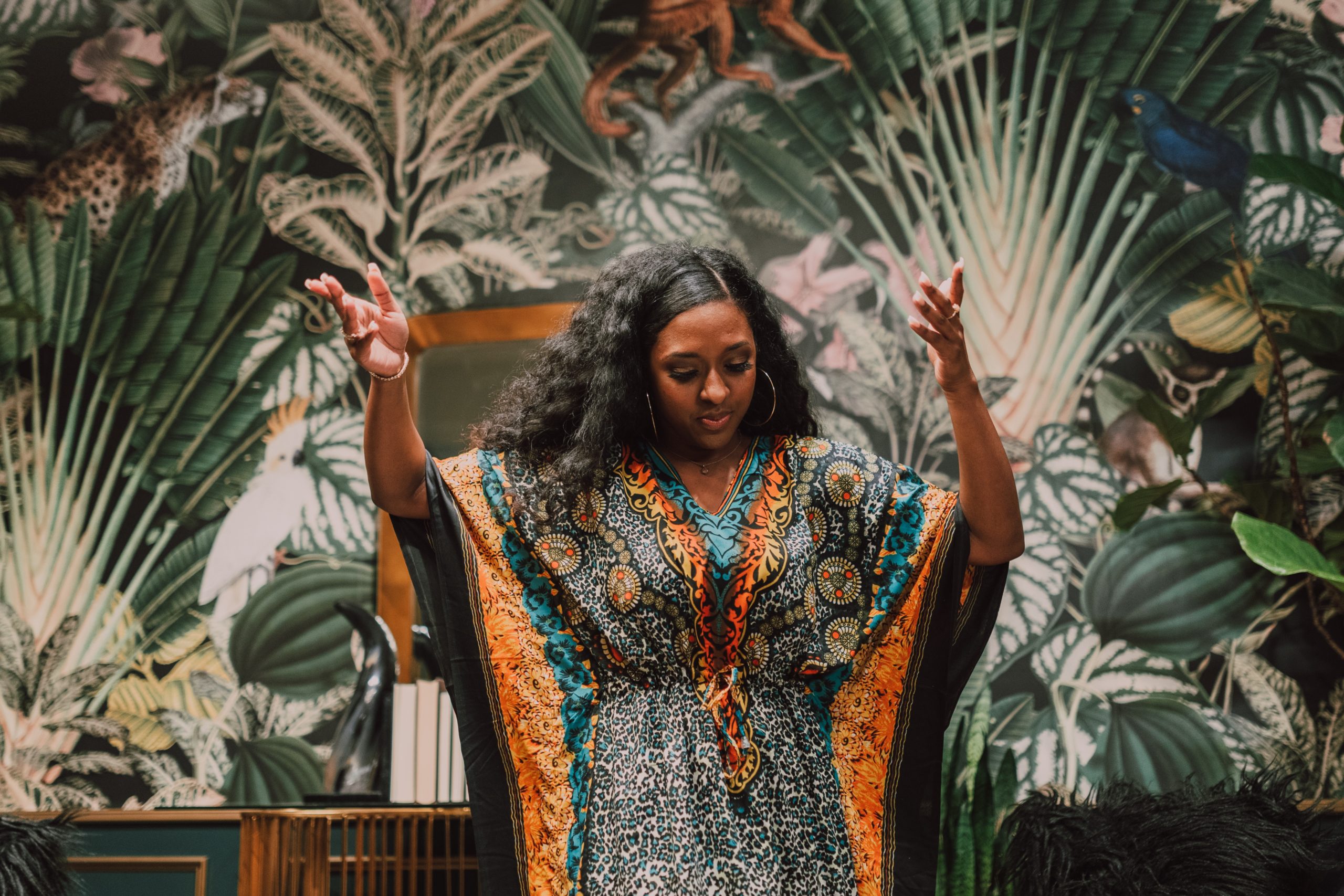 A 2020 Letter of Reflection & Gratitude
When we first headquartered in the Bronx, our mission was clear: to create a world where all people have equal access and opportunity to build prosperous futures. Fifteen years later, amidst a global pandemic and focus on racial justice, our mission and banking approach is more relevant than ever.
When the COVID-19 pandemic hit our city and unleashed dual health and economic crises, we saw our community's needs, and we got to work. All year, our team worked tirelessly to address our community's financial needs. Our efforts would not have been possible if it weren't for our incredible staff, our community, and small business partners, our B-Corp community, and most of all, you.
Thank you for being a part of our community.
2020 Reflections
To say that 2020 has been a tough year is an understatement. We know many of you have faced challenges you never expected. Us too. But thankfully, we have one another. This year has shown us why our work—and that of community banks and CDFI's are so important for low-income communities, small businesses, and nonprofit organizations that are too often overlooked by financial institutions. We prioritize our neighbors.
After the CARES Act passed in April of this year, our lending team got to work to assist organizations with their applications for a Payment Protection Program (PPP) loan.
We take great pride in having secured 360 PPP loans–valued at $86.8 million–for small businesses and nonprofits in the New York City area. With these funds, organizations retained over thousands of jobs. In total, we secured PPP loans for 53 nonprofits valued at $35 million, funding that they otherwise may not have received if they had looked to a larger bank.
For example, we secured financial relief for Ultranauts, a company that mainly employs autistic workers for jobs in the technology sector. We supported The Forward, one of New York's oldest Jewish media publications, and many others. Our lending team worked hard to make sure that value-aligned small businesses and community-based organizations could not only stay afloat but continue to support the needs of their communities, too.
In addition to our PPP lending program, we partnered with Eileen Fisher Inc., a fellow B Corp, to help them provide relief for their furloughed employees at the height of the lockdown. We customized our Employee Opportunity Loan program to meet their specific needs, which allowed them to act quickly to stay present.
In these uncertain times, we remain committed to New York City's financial inclusion—and your financial health. We are humbled by the outpouring of support and gratitude from our community, and we draw so much inspiration from your ingenuity, hard work, and resilience. In this season of reflection and generosity, we want to extend one more heartfelt thank you. Together, we will continue to make New York City the best city in the world.
Check out the article about Ultranauts in The New York Times. Read about our work with organizations like Callen Lorde Community Center, Grand Street Settlement, and The Forward. Read more about our PPP lending program.
Thank you for your partnership and business. We wish you a very happy and healthy 2021!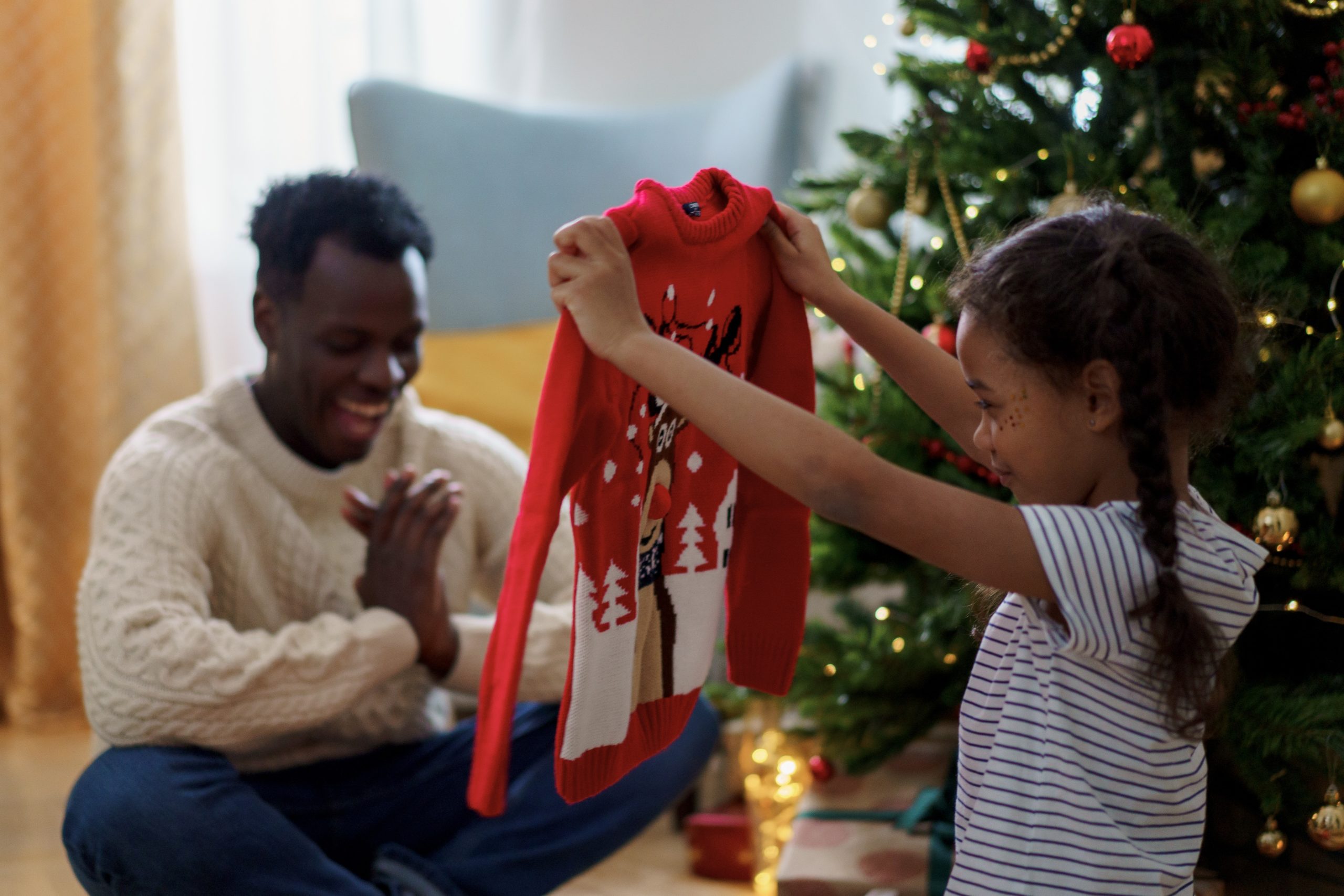 We want to extend our warmest wishes to you and your family in a season when our holiday celebrations might look a little different. The holidays are a time to be thankful, reflect, and look to the future with renewed hope and determination.
As 2020 comes to a close, we celebrate the courage of our frontline workers, small business owners, and community members: who took some time to help a family, member, friend or even a neighbor in need. And we commit to fighting racial injustice by working to build an economy that is inclusive of all people regardless of race, socioeconomic status, or nationality.
We are grateful to serve you and New York City, the greatest city in the world. New Yorkers always come together to overcome challenges that often seem insurmountable–and we will overcome this one.
From our family to yours, we wish you health, happiness, and continued strength this holiday season.  As 2020 comes to a close, we also invite you to check out some of our accomplishments from this year. Read about our work with organizations like Callen Lorde Community Center, Grand Street Settlement, and The Forward. Learn more about our PPP lending program and our commitment to the most vulnerable New Yorkers.
Happy Holidays,
From the Spring Bank Family
Brought to you in collaboration with the team at Neighborhood Trust Financial Partners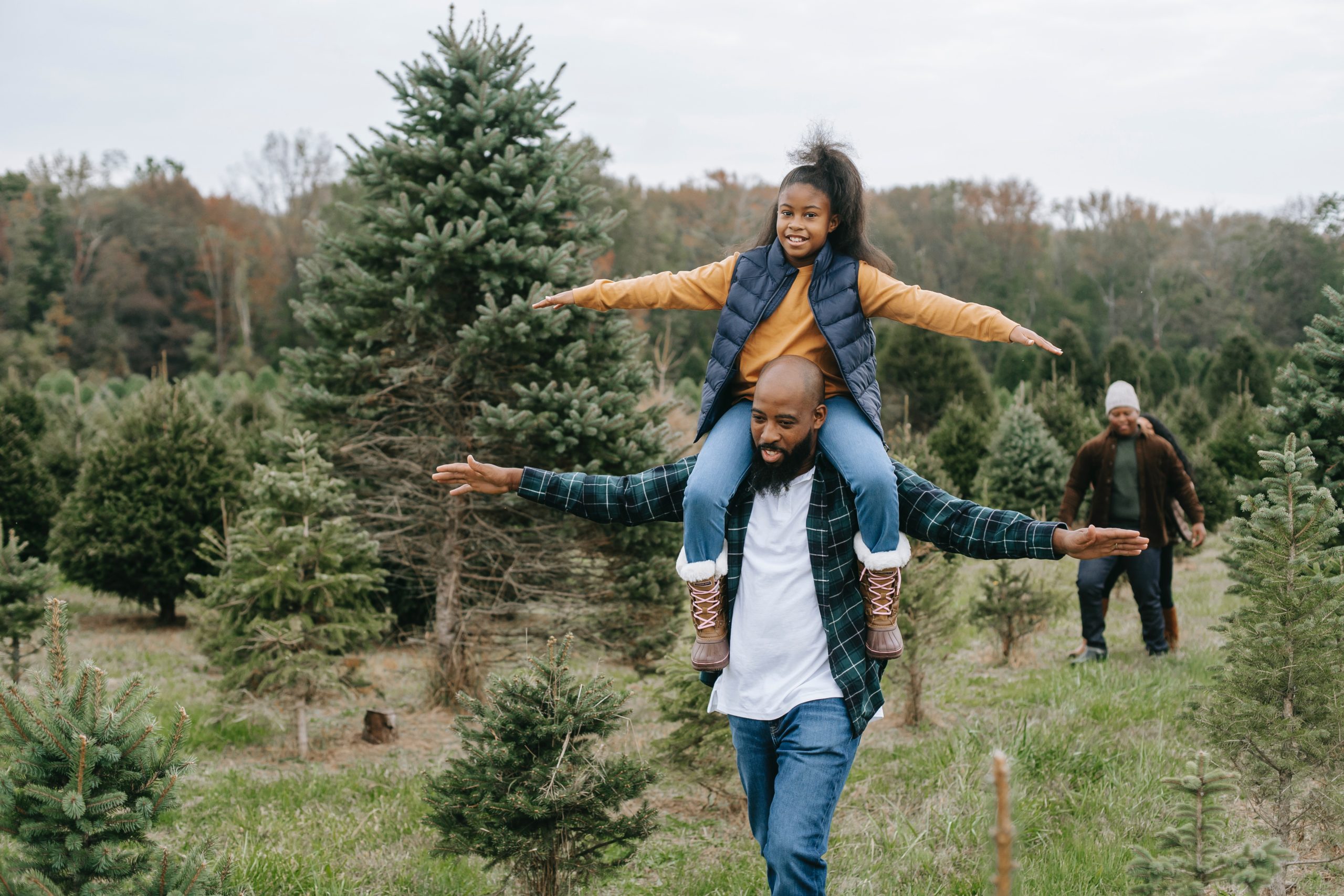 The time for gift-giving and safe, family celebrations is here. Often, the joy and the festivities that come with this time of year can also equate to non-budgeted expenses and high credit card statements later. However, this holiday season, perhaps more than ever before, is a time to focus on what matters most: your health, including your financial health. As you reimagine the holidays in many ways this year, we offer you five creative tips to help you carry on your traditions and stay within your budget. Together, we crafted these tips with our colleagues at Neighborhood Trust Financial Partners, a national nonprofit and worker financial health leader.
1. Cover Your Essentials: We all want to make the holidays special but make sure first you cover your basics, transportation, healthcare, rent, and food, before spending money on anything else.
2. Save As Much As You Can: If you have any money left over after covering your basics, determine a set amount you feel comfortable depositing into your emergency and personal savings every month. Then create your holiday budget and stick to it.
3. Gift Creatively:  You do not need a lot of money to celebrate the holidays in style. Some of the best gifts are inexpensive, yet thoughtful, and meaningful. You can suggest a "Secret Santa" with your family and set a price limit on the gifts. That way, you limit the number and cost of gifts each person buys.
4. Pay Your Monthly Minimums: By paying monthly credit card minimums, you can keep your credit line open and in good standing. You don't have to pay all of your credit card debt if you are unable but plan each month so that you have the cash flow to pay the minimum. If you need to use credit cards to buy gifts, make sure you have the cash the next month to pay off the accrued balance. Remember, when it comes to gift-giving, it's the thought that counts. Your friends and family will be delighted to receive a homemade gift knowing you are fiscally responsible.
5. Build Good Credit: Open doors for better rates when you think about buying a car, purchasing insurance, buy a home, and all your plans for the future
We want you to achieve your financial goals. We can help you build your personal savings and open a personal savings account. Stop by one of our branches in the Bronx or Harlem or give us a call at 718-879-5000. It's our pleasure to support our clients and community during this challenging time. Read more about the great work of Neighborhood Trust Financial Partners and their free TrustPlus financial coaching services.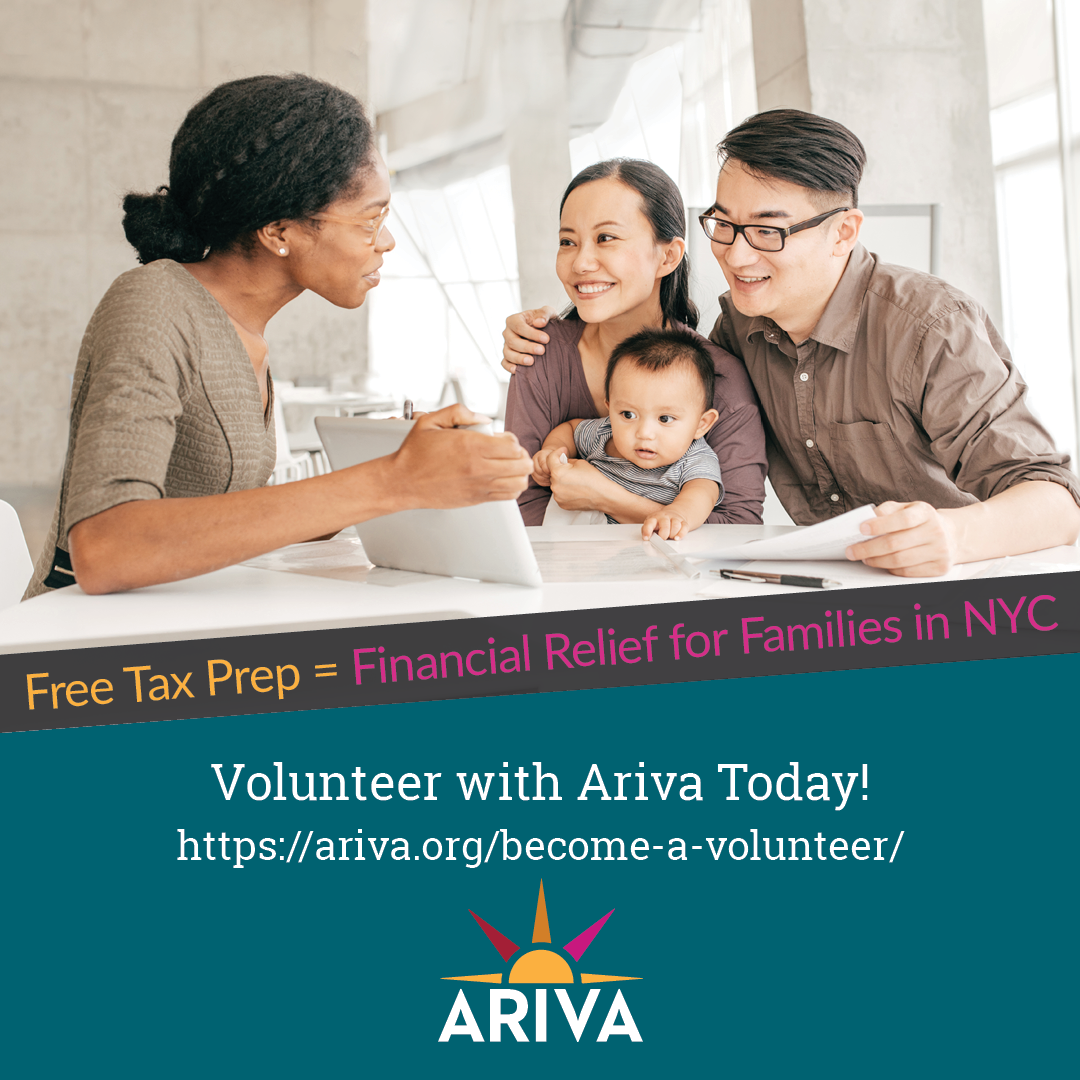 As one of the few banks headquartered in the Bronx, New York, we are devoted to serving our borough's needs.  Thankfully, we partner with dozens of community-based organizations with the same commitment. Since we opened our doors, Ariva has been on-the-ground at our Bronx location, providing free tax preparation and free financial counseling services to low-income New York City residents.
In December of 2019, Ariva received one of eight designations from the Department of Consumer Affair's Office of Financial Empowerment as a New York City Financial Empowerment Center. As one of two in the Bronx, this designation allows them to help families across the city gain confidence in their financial knowledge, leading to more informed financial decisions and increased financial security and prosperity. We are proud to partner with an organization that shares our values and helps low-income New Yorkers start on the path to economic independence.
Since 2003, Ariva has prepared free tax returns for over 100,000 clients, returning more than $150 million in total refunds. Eighty-eight percent of Ariva's clients earn less than $30,000 annually. So, as we continue to battle COVID-19 and its joblessness side-effect, the income from tax returns will provide critical financial relief. Even a small tax refund can prevent a family from using predatory financial services and help them start saving.
And that's where you come in. You can provide financial relief for families from the comfort and safety of your home by becoming an Ariva Tax Prep Volunteer. As Ariva gears up for the 2021 tax season, they are recruiting volunteers to virtually files taxes. If you are looking for an opportunity to give back, join Ariva's team of 200+ volunteers. It's a vibrant, bustling volunteer community, just like NYC. Sign up here.
If you require financial assistance, like checking your credit score, opening a personal checking account, or applying for a personal loan, Ariva' s team of financial counselors can help you. Contact Ariva at 718-292-2983 and learn more about our partnership. And, if a nonprofit you work for or support is looking for a bank that is committed to serving the community, we offer nonprofit checking accounts and lending options, too.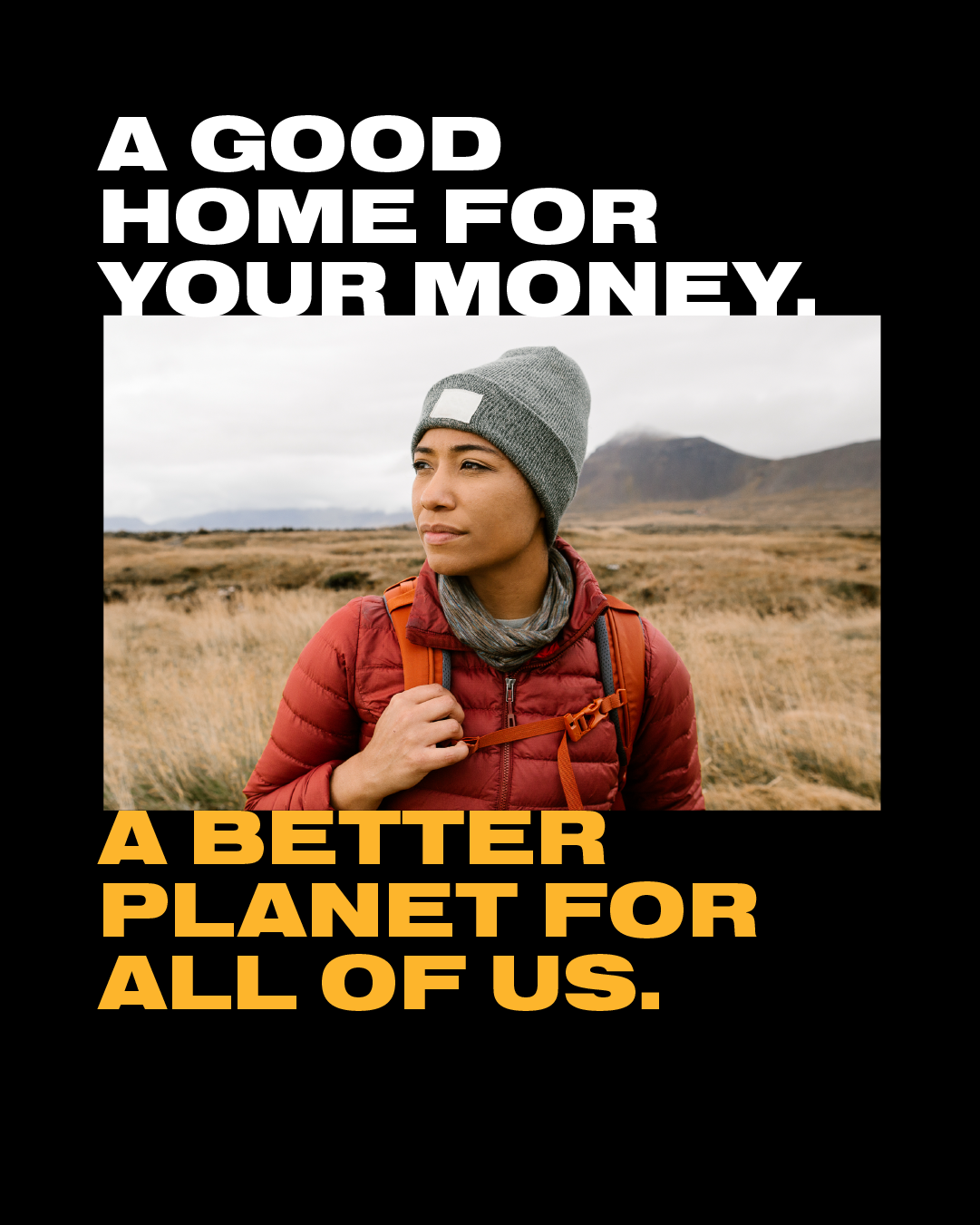 We are committed to a world where all people have equal access and opportunity to build prosperous futures. And when we say all people, we mean everyone, even those who don't bank with us.
As the climate crisis causes temperatures to rise and extreme weather becomes more common, the impacts will affect everyone.  Financial institutions that finance fossil fuels bear immense responsibility. Did you know that the four largest banks in the United States poured more than $210 billion into fossil fuel projects in 2019 alone? That's why—as a carbon-neutral, B Corp community bank, we immediately said yes to the invitation to join a national movement of banks who recognize together their responsibility to address the climate crisis. You can feel secure with us and with any member of the Bank for Good campaign, that your money is a solution, not a contributor to the climate crisis and will not be invested in fossil fuels.
We view our commitment to climate justice as a racial justice issue, as underserved communities of color, communities like those we serve, are disproportionately impacted. The Bank for Good campaign was our opportunity to join with like-minded financial institutions to create a new narrative for banking that aligns with our values.
Paul Philips, District Manager of Community Board 4–the neighborhood of our headquarters in The Bronx– recognizes how banks can be a tool for good.  Ninety-six percent of the people in Community Board 4 are minorities, and the average income is $29,000 a year.  And as a result of COVID-19, he has witnessed long lines of people waiting outside check cashiers to get the money they need to pay for existing expenses.
"Now more than ever, we need financial institutions like Spring Bank," says Paul Philips. "We need local banks that serve low-income minority communities, especially small businesses."
According to Paul Philips, only 2 percent of small businesses in The Bronx received any federal PPP lending dollars via the CARES Act due to COVID-19. He believes this is precisely why community banks are essential to building a financially inclusive society.
"Banks that are rooted in the community are so important; they will actually advocate on behalf of communities of color," says Paul Philips.
As one of the few community banks in The Bronx, New York, we are proud to support small businesses and communities of color as we Bank for Good. Learn more by reading about our commitment to our community during COVID-19.
Ready to join us in the movement to Bank for Good? Move your money with us and open a Green Checking Account or apply for a personal loan today! We can help your small business grow by opening a business checking account. And you can feel good about your role in ending the climate crisis, knowing your hard-earned dollars are invested locally, right back into the best city in the world. Read more about the Bank for Good campaign.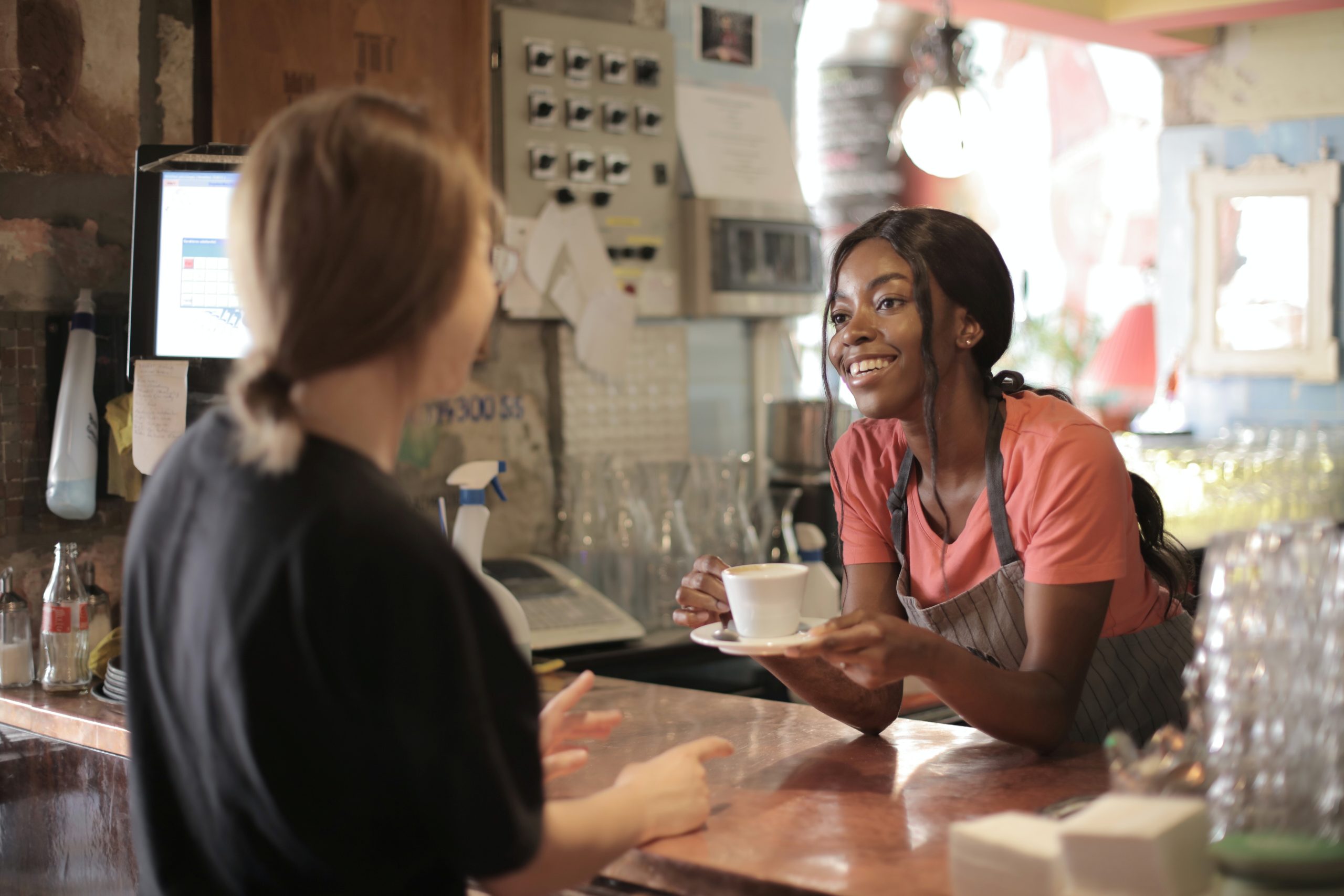 As the COVID-19 health crisis continues to challenge small businesses in New York City, we want to remind you that we are here for you. As a small business ourselves, we can relate—we are in this together. We are committed to helping you sustain your business and reach your financial and business goals. Whether applying for a small business loan or opening up a small business account, we offer high-touch customer service and competitive rates.
Our small business lending team's personal and customized approach provides you with the support you need when you need it. As a proud Community Development Financial Institution (CDFI) and B Corp, we offer small business loans and lines of credit that allow businesses to build and expand capacity. Our products range from a $10,000 Microloan to SBA financing for larger projects.
Our small business account options combined with our small business lending are a critical part of our mission to help small businesses grow. With remote deposit capture, our small business checking accounts allow you to manage your cash flows without leaving your office. You can also handle payments, transfers, and direct deposits for your business with our online banking services.
Open a small business checking account online today. You can also contact us at 718-879-5000. For more information, read about how our small business services have helped NYC small businesses like Harlem Pizza Co. We are here for you!
A Small Business Story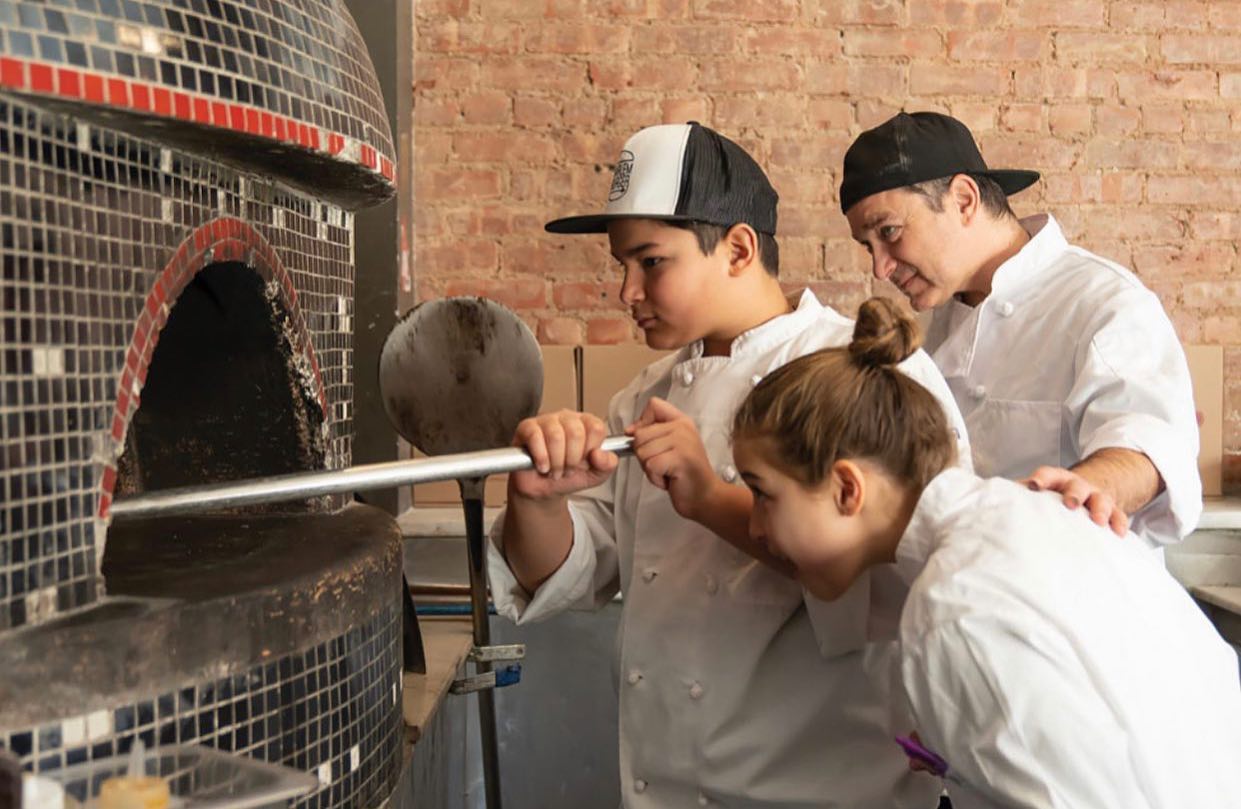 "I just told myself, if we do the right thing, we will survive," Jeannie Uyanik says. "Throughout this whole ordeal, we have told ourselves that there is light at the end of the tunnel, and we have responded with ingenuity and humility."
Jeannie and Alper Uyanik, the owners of three Harlem-based restaurants–Harlem Pizza Co., Sliced by Harlem Pizza Co., and Harlem Burger Co.– have always had an entrepreneurial spirit. The devastating impacts of COVID-19 on the restaurant business in New York City was not going to stop them. They were more determined than ever to innovate, maintain employment for their team, and continue to sustain their hard-earned success.
Instead of giving up, they contacted our small business lending team, who helped them bridge the gap between payroll expenses and available savings by applying for a PPP loan. Our small business accounts team also helped them navigate the economic shock by giving them extra time to cover items in their account. In turn, Jeannie and Alper were able to keep making a positive impact on their community.
"We kept our business open and did not lay off a single employee," Jeannie says. "One of our employees who has been with us through thick and thin has five children. How do you pick who to lay off? How do you make those choices? I didn't get into this business to destroy a life. But thanks to the PPP loan and the flexibility of Spring Bank, we didn't have to make those choices."
Our personalized financial and professional support helped Jeannie and Alper pivot toward takeout and delivery. Now customers can enjoy their wood-fired Neapolitan pizza with locally sourced ingredients and creative names like Ooey Goey and Sweet Fatty from Harlem Pizza Co. Or, just a few blocks down the street, order takeaway burgers from Harlem Burger Co. With patience and resolve, their restaurants have sustained revenues. Some nights, the Uyaniks' restaurants bring in the same amount of income in takeout than they previously earned in a week!
Despite the challenges they have faced to keep their business open, the Uyaniks have never wavered from their commitment to the Harlem community–where they have opened their businesses and raised their family. Jeannie and Alper sent food to Harlem Hospital for 70 straight days at the height of the lockdowns. They also sent food to a senior community center and two police precincts in the neighborhood.
Their impulse to serve the community when their restaurants were struggling is nothing new; it's a part of an ethos that has guided their 20 years in business.
"I refuse to throw out a morsel of food," Jeannie stresses. "We partner with local organizations to make sure that our leftovers go to people who need them. Our food is always so well received, and it's a great way to give back. If you behave with dignity and decency, I believe things will work out," she continues. "We are grateful to have the backing of another community-oriented organization like Spring Bank."
The COVID-19 pandemic has had far-reaching consequences on our economy. As the first B Corp Bank in New York State–we are working hard to keep entrepreneurs afloat with our small business checking account and lending programs. We know that times continue to be tough. Our small business lending and small business account teams are committed to your financial health and will give you hands-on advice and support. To maximize social distancing, you can open a business account online. Virtually or in-person, we are here to help.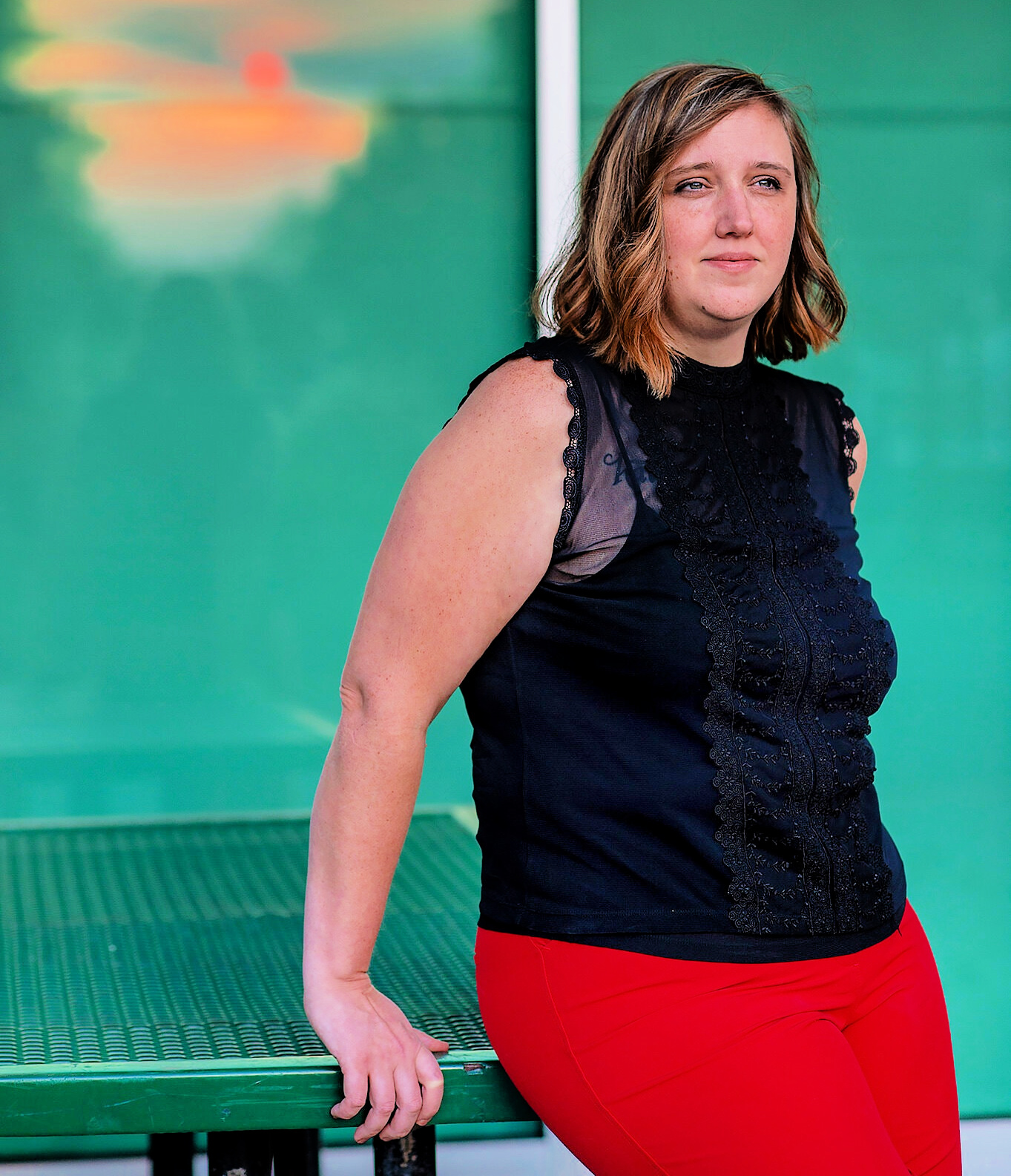 Photo Credit: Ultranauts, NY Times
As a mission-driven, community-based bank, we prioritize our neighbors and the unique financial needs of the Bronx and Harlem. Since the day we opened our doors in the South Bronx over thirteen years ago, we have been grateful for the partnership of many small businesses and values-aligned organizations, including some of New York City's oldest and most reputable nonprofits.
When COVID-19 hit, we responded by supporting our small business and nonprofit partners when they needed it most. Hours after the CARES Act passed in April of this year, our lending team got to work to assist organizations with their applications for a Payment Protection Program (PPP) loan.
We are proud to report that as of this month, we secured 360 PPP loans–valued at $86.8 million–for small businesses and nonprofits in the New York City area.  With these funds, organizations retained over 5,000 jobs.
 At the height of the lockdown, we helped Callen Lorde Community Center– a primary care center dedicated to serving the LGBTQ and homeless communities–secure a PPP loan that allowed them to continue their critical work on the frontlines of New York City's battle against COVID-19. Our partnership helped them retain 80 of their employees, all while running a temporary hospital out of a hotel in Queens.
Additionally, our lending team supported other major nonprofits organizations like Grand Street Settlement–a social services agency that helps thousands of New Yorkers–and The Forward–one of New York's oldest Jewish media publications. In total, we secured PPP loans for 53 nonprofits valued at $35 million, funding that they otherwise may not have received if they had gone to a larger bank.
But we didn't stop there. We also partnered with values-aligned companies that are revolutionizing the business world. We take particular satisfaction in our work with Ultranauts, a company that mainly employ autistic workers for technology jobs.
With 75 percent of its workforce on the autistic spectrum, Ultranauts uses a unique set of operational policies and practices. Recently featured in The New York Times, their remote work model and unique accommodations have become a model for businesses looking to foster inclusion. And yet, pivoting to 100 percent remote working could not shield them from the economic downturn caused by the global pandemic. Ultranauts lost business as their clients made cuts to cope with the impact. To cover these unexpected costs, they partnered with us to secure a PPP loan that allowed them to adapt to the changing market, and soon, they were flourishing once again. Ultranaut acquired new clients and has plans to expand its workforce from 90 to 200 employees in the next two years.
We are proud to support organizations that, like us, are working to build an economy that includes and nurtures every individual's talents. We are proud to help small businesses and nonprofits continue their work during this historic time.
If your small business or nonprofit requires financial support during this time, we can help you secure a lending option that best suits your organization. Do not hesitate to contact us at 718-879-5000. And we can set up a small business checking account or a nonprofit checking account so that you keep your money local, investing in communities in New York City that have been impacted by the COVID-19 pandemic.
Check out the article about Ultranauts in The New York Times. Read about our work with Callen Lorde Community Center, Grand Street Settlement, and The Forward. Open a small business checking account today.