It's Easy to Get Started
with Spring Bank
Open an account in minutes. Choose from checking, savings and loan products that meet your financial needs with online and mobile banking.
Supporting Small Business
In a Big Way
Our personal and flexible loan and account options can make your business dreams a reality.
Helping Nonprofits
Grow & Prosper
Our Community Impact Program is helping nonprofits do what they do best – make communities even better.
Welcome to Spring Bank
New York's First B Corp. Bank





How can we help
you grow?
At Spring Bank we are proud to be a different kind of bank. We believe individuals, families and our communities deserve equal opportunities to prosper, which is why we offer affordable products and personalized financial solutions and create positive social change. We are committed to helping you and our community grow. Call us today to put your money with a bank that cares about where it is going.
Access to Your Cash Anywhere Anytime
With free ATMs in the MoneyPass network or at any Citibank branch ATM..
Keeping More money In Your Pocket
Affordable and fast. Choose a competitive rate loan, an IRA savings account, or pick from the best checking accounts online.
Business Loans & Lines of Credit
See why our banking and loan products makes good business sense. A range of products from SBA 504 to Microloans make capital accessible for business just like yours.
The App for All That
Mobile banking made easy. Enjoy all the convenience of our Spring Bank mobile app and mobile deposits.
NY's First B-Corp Bank
As a socially responsible business, we work to create lasting social impact for our communities and our employees.
An Ethical Bank with Impact Focused Practices
We take ethical banking seriously. As a certified B-Corp we measure & report our impact on our community, our customers and our planet.
Ready to grow with us? Come in and talk to one of our account managers about how we bring ethical banking to our accounts. Use the form below to schedule an appointment: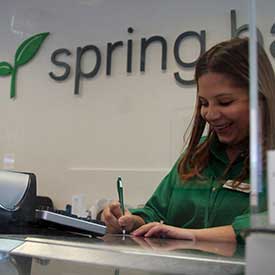 Have any questions? Stop by a branch or call us at (718) 879-5000.